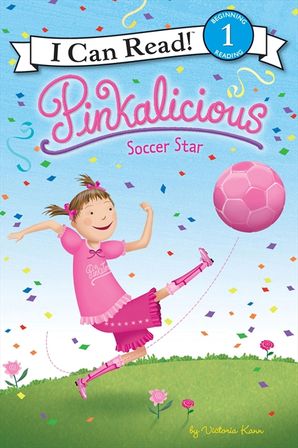 Read an excerpt
Pinkalicious: Soccer Star
By Victoria Kann, Illustrated by Victoria Kann
Description
Readers can watch Pinkalicious and Peterrific on the funtastic PBS Kids TV series Pinkalicious & Peterrific!
#1 New York Times bestselling author Victoria Kann brings young readers on a pinkatastic glove-trotting adventure!
Pinkalicious and her soccer team, the Pinksters, are ready for their first soccer match! When their opponents, the Ravens, show up, they make fun of the Pinksters' pink soccer ball. The ball gets kicked off the field, forcing Pinkalicious to chase after it. Pinkalicious' unicorn Goldilicious just happens to be waiting for her in the crowd and sweeps up Pinkalicious for a pinkatastic journey around the world.
Beginning readers will enjoy the pinkerrific adventure in this Level One I Can Read, perfect for soccer stars and Pinkalicious fans who are learning to sound out words and sentences.
Contributors
Victoria Kann
Victoria Kann is the author-artist of the New York Times bestseller Peterrific, and four #1 New York Times bestselling books Aqualicious, Emeraldalicious, Silverlicious, and Goldilicous. She is the artist and coauthor of the New York Times bestsellers Pinkalicious and Purplicious. In addition, Victoria cowrote Pinkalicious: The Musical which premiered in New York City to sold-out audiences and continues to be performed across the country. Victoria is the co-executive producer of Pinkalicious & Peterrific on PBS Kids. Her award-winning artwork has graced the covers and pages of many magazines, newspapers, and books. She lives with her husband and two daughters. Readers can follow Pinkalicious on Facebook and Twitter. For more Pinkalicious and Peterrific fun, visit www.thinkpinkalicious.com.
Illustrated by Victoria Kann
Details
Publisher: HarperCollins
Imprint: HarperCollins
Format: eBook
On Sale: 07/15/2014
ISBN: 9780062106858
ISBN10: 0062106856
Pages: 32
Trimsize: 0.000 x 0.000 in
Subcategory:
JUVENILE FICTION / Girls & Women
JUVENILE FICTION / Humorous Stories
JUVENILE FICTION / Readers / Beginner
More Great I Can Read Level 1 BOOKS