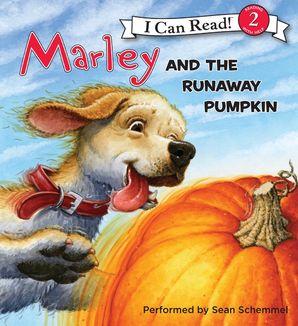 Read an excerpt
Marley: Marley and the Runaway Pumpkin
By John Grogan, Illustrated by Richard Cowdrey
Description
Halloween fun with goofy, well-intentioned Marley the dog!
Marley's family wants their giant pumpkin to win a prize at the fair. But on the big day, their silly dog sends the pumpkin on a wild ride instead!
This Level Two I Can Read is geared toward kids who read on their own but still need a little help.
Contributors
John Grogan
John Grogan is the author of the #1 international bestseller Marley & Me: Life and Love with the World's Worst Dog, the bestselling middle-grade memoir Marley: A Dog Like No Other, and three #1 best-selling picture books: Bad Dog, Marley!, A Very Marley Christmas, and Marley Goes to School. John lives with his wife and their three children in the Pennsylvania countryside.
John Grogan ha sido un premiado reportero gráfico y columnista por más de veinticinco años. Vive en Pensilvania con su esposa Jenny y sus tres hijos.
Illustrated by Richard Cowdrey
Details
Publisher: HarperCollins
Imprint: HarperCollins
Format: Downloadable audio file
On Sale: 08/09/2011
ISBN: 9780062124623
ISBN10: 0062124625
Trimsize: 0.000 x 0.000 in
Subcategory:
JUVENILE FICTION / Readers / Beginner
JUVENILE FICTION / Animals / Dogs
JUVENILE FICTION / Holidays & Celebrations / Halloween
More Great I Can Read Level 2 BOOKS