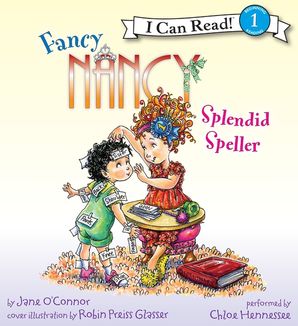 Read an excerpt
Fancy Nancy: Splendid Speller
By Jane O'Connor, Illustrated by Robin Preiss Glasser
Description
Nancy loves spelling. She can spell fun words like "happy" and French words like chien (that means "dog") and even long words like "splendid." But when Ms. Glass's spelling test is harder than Nancy anticipated, the self-professed spelling prodigy faces a tough decision that pits her pride against her principles.
Young readers will relate to Nancy's test-taking dilemma in this new addition to the Fancy Nancy I Can Read series.
Contributors
Jane O'Connor
Jane O'Connor is an editor at a major publishing house who has written more than seventy books for children, including the New York Times bestselling Fancy Nancy series. She resides (that's fancy for lives) with her family in New York City.
Illustrated by Robin Preiss Glasser
Details
Publisher: HarperCollins
Imprint: HarperCollins
Format: Downloadable audio file
On Sale: 08/09/2011
ISBN: 9780062124685
ISBN10: 0062124684
Trimsize: x in
Subcategory:
JUVENILE FICTION / Readers / Beginner
JUVENILE FICTION / Girls & Women
JUVENILE FICTION / Humorous Stories
More Great Fancy Nancy I CAN READ! BOOKS
More Great I Can Read Level 1 BOOKS