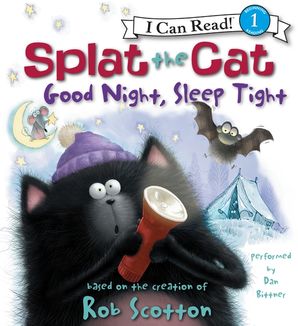 Read an excerpt
Splat the Cat: Good Night, Sleep Tight
By Rob Scotton, Illustrated by Rob Scotton
Description
Splat is really excited about going camping—until his mom tells him she has invited his rival, Spike. Will Spike ruin Splat's trip?
In this easy-to-follow story about an unlikely friendship, Splat learns that his worst enemy isn't so different from him after all.
Contributors
Rob Scotton
Rob Scotton is the bestselling author and illustrator of Russell the Sheep; Russell and the Lost Treasure; Russell's Christmas Magic; Splat the Cat; Love, Splat; Merry Christmas, Splat; and Scaredy-Cat, Splat! His work can also be found on greeting cards, ceramics, textiles, prints, stationery, and glassware. An honors graduate of Leicester Polytechnic, Rob now lives in Rutland, England, with his wife, Liz, who is also an artist. You can visit Rob Scotton online at www.robscotton.com.
Illustrated by Rob Scotton
Details
Publisher: HarperCollins
Imprint: HarperCollins
Format: Downloadable audio file
On Sale: 08/09/2011
ISBN: 9780062124715
ISBN10: 0062124714
Trimsize: x in
Subcategory:
JUVENILE FICTION / Readers / Beginner
JUVENILE FICTION / Humorous Stories
JUVENILE FICTION / School & Education
More Great Splat the Cat I CAN READ! BOOKS
More Great I Can Read Level 1 BOOKS