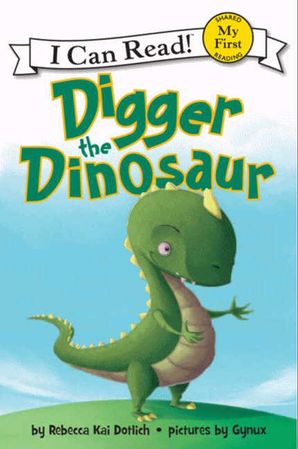 Read an excerpt
Digger the Dinosaur
By Rebecca Kai Dotlich, Illustrated by Gynux
Description
Digger the Dinosaur may be huge, but he has the heart of a preschooler. He loves to help but gets mixed up a lot.
 
In Digger the Dinosaur, Digger wants to play baseball with his friends. But he isn't allowed to go out until he's cleaned his room. Digger starts cleaning at top speed, but the faster he moves the messier his room gets. His big tail and big feet aren't helping! Will Digger win the race to tidy his room and get to the game on time?
 
Gynux's full-color illustrations capture Digger's lovable personality.
 
Digger the Dinosaur is a My First I Can Read book. That means it's perfect for shared reading with a child.
Contributors
Rebecca Kai Dotlich
Poet and picture book author Rebecca Kai Dotlich has written several children's books, including Grandpa Loves, illustrated by Kathryn Brown; Over in the Pink House: New Jump-Rope Rhymes, illustrated by Melanie Hall; and What is Science?, illustrated by Sachiko Yoshikawa. This is her first title in the I Can Read Book line. She lives in Indiana.
Illustrated by Gynux
Details
Imprint: HarperCollins
Format: Hardcover
On Sale: 07/30/2013
ISBN: 9780062222220
ISBN10: 0062222228
Pages: 24
Trimsize: 9.000 x 6.000 in
Subcategory:
JUVENILE FICTION / Readers / Beginner
JUVENILE FICTION / Animals / Dinosaurs & Prehistoric Creatures
JUVENILE FICTION / Humorous Stories
More Great My First I Can Read BOOKS