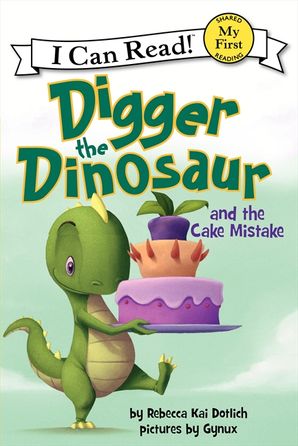 Read an excerpt
Digger the Dinosaur and the Cake Mistake
By Rebecca Kai Dotlich, Illustrated by Gynux
Description
Readers will roar with laughter as Digger the Dinosaur mixes up silly phrases in his second fully illustrated I Can Read title.
Today is the big dino party! Digger and Dadasaur take a ride into town to get a cake, but before long, they get lost. Can Momasaur help Digger before it's too late? Or will Digger and Dadasaur have to go home cakeless?
Beginning readers will learn common sight words and simple phonics sounds. Digger the Dinosaur and the Cake Mistake is a My First I Can Read book, which means it's perfect for shared reading with a child.
Contributors
Rebecca Kai Dotlich
Poet and picture book author Rebecca Kai Dotlich has written several children's books, including Grandpa Loves, illustrated by Kathryn Brown; Over in the Pink House: New Jump-Rope Rhymes, illustrated by Melanie Hall; and What is Science?, illustrated by Sachiko Yoshikawa. This is her first title in the I Can Read Book line. She lives in Indiana.
Illustrated by Gynux
Details
Imprint: HarperCollins
Format: Hardcover
On Sale: 09/10/2013
ISBN: 9780062222244
ISBN10: 0062222244
Pages: 24
Trimsize: 9.000 x 6.000 in
Subcategory:
JUVENILE FICTION / Readers / Beginner
JUVENILE FICTION / Animals / Dinosaurs & Prehistoric Creatures
JUVENILE FICTION / Humorous Stories
More Great My First I Can Read BOOKS