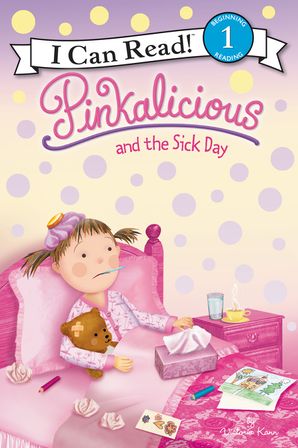 Read an excerpt
Pinkalicious and the Sick Day
By Victoria Kann, Illustrated by Victoria Kann
Description
Readers can watch Pinkalicious and Peterrific on the funtastic PBS Kids TV series Pinkalicious & Peterrific!
#1 New York Times bestselling author Victoria Kann is back with a new I Can Read story featuring Pinkalicious!
Pinkalicious gets to be Principal for a Day because she has perfect attendance! Pinkalicious can't wait to be in charge, but when she wakes up sick on the big day, will her dreams of being Principal Pinkalicious be—ACHOO!—blown away? Beginning readers will love seeing how Pinkalicious turns a sick day into a special day in this I Can Read adventure!
This is a Level One I Can Read book that is perfect for children learning to sound out words and sentences.
Contributors
Victoria Kann
Victoria Kann is the award-winning illustrator and author of the picture book series featuring the whimsical and effervescent character Pinkalicious. Victoria coauthored and illustrated the first two books, Pinkalicious and Purplicious, and cowrote the play Pinkalicious: The Musical.  She wrote and illustrated the New York Times number-one bestsellers Goldilicious, Silverlicious, Emeraldalicious, and Aqualicious as well as Peterrific, starring Pinkalicious's little brother! Victoria is the co-executive producer of Pinkalicious & Peterrific on PBS Kids.
Illustrated by Victoria Kann
Details
Imprint: HarperCollins
Format: Hardcover
On Sale: 10/06/2015
ISBN: 9780062245991
ISBN10: 0062245996
Pages: 32
Trimsize: 9.000 x 6.000 in
Subcategory:
JUVENILE FICTION / Readers / Beginner
JUVENILE FICTION / Health & Daily Living / Diseases, Illnesses & Injuries
JUVENILE FICTION / Humorous Stories
More Great Pinkalicious I CAN READ! BOOKS
More Great I Can Read Level 1 BOOKS