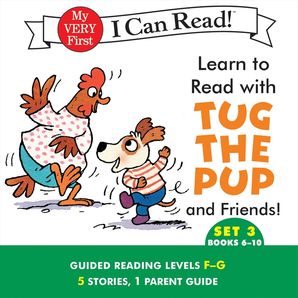 Read an excerpt
Learn to Read with Tug the Pup and Friends! Set 3: Books 6-10
By Dr. Julie M. Wood, Illustrated by Sebastien Braun
Description
This set of 5 simple and fun storybooks is an excellent choice to share during homeschooling. It's a fun way to learn to read and as a supplement for activity books for children ages 3 to 6. Enter into the world of reading with My Very First I Can Read! 
The 5 short stories in Set Three, Books 6 to 10, are Guided Reading Levels F–G, which means the vocabulary, sentence structure, and plots are still simple, but richer than sets one and two.

Written by educator and reading specialist Dr. Julie M. Wood, with lively illustrations by Sebastien Braun, this program stars Tug the Pup and an endearing group of characters who will lead beginners through the proven steps for successful reading.
The Learn to Read with Tug the Pup program features sight word vocabulary, simple text, strong picture support, and character and plot development.
This comprehensive emergent reading program addresses all the components of reading mastery based on the latest early literacy research.
Contributors
Dr. Julie M. Wood
Illustrated by Sebastien Braun
Details
Publisher: HarperCollins
Imprint: HarperCollins
Format: eBook
On Sale: 06/24/2014
ISBN: 9780062266941
ISBN10: 0062266942
Pages: 64
Trimsize: x in
Subcategory:
JUVENILE FICTION / Readers / Beginner
JUVENILE FICTION / Animals / Farm Animals
JUVENILE FICTION / Concepts / Words
More Great Tug the Pup I CAN READ! BOOKS
More Great My Very First I Can Read BOOKS