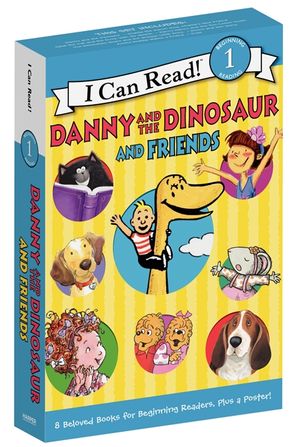 Danny and the Dinosaur and Friends: Level One Box Set
By Various,Jan Berenstain,Ree Drummond,Grace Gilman,Kevin Henkes,Syd Hoff,Jane O'Connor,Herman Parish,Rob Scotton
Description
Featuring Danny and the Dinosaur and seven other most beloved I Can Read characters together, this collection of favorite easy-to-read I Can Read stories is full of familiar faces—and comes with a free poster starring our most popular characters! This Level One slipcase is perfect for children learning to sound out words and sentences.
The collection includes the following eight new and classic Level One I Can Read books: Danny and the Dinosaur, Amelia Bedelia Makes a Friend, The Berenstain Bears and the Shaggy Little Pony, Charlie the Ranch Dog: Charlie's New Friend, Dixie, Fancy Nancy and the Too-Loose Tooth, Penny and Her Song, and Splat the Cat and the Duck with No Quack.
Level One I Can Read books are perfect for children learning to sound out words and sentences.
Contributors
Various
HarperCollins Publishers is a proud supporter of First Book, a national nonprofit organization whose mission is to give children from low-income families the opportunity to read and own their own new books. The primary goal of First Book is to work with existing literacy programs to distribute new books to children who, for economic reasons, have little or no access to books. In this way, First Book effectively leverages the heroic efforts of local tutoring, mentoring, and family literacy organizations as they work to reach children who need help the most. First Book distributes millions of books to hundreds of thousands of children nationwide each year. For more information on First Book, please visit www.firstbook.org.
Jan Berenstain
Stan and Jan Berenstain were already successful cartoonists for magazines and adult humor books when they began writing children's books. The first story starring the bear family, The Big Honey Hunt, appeared in 1962. Since then, more than 370 Berenstain Bears books have been published, and more than 300 million copies have been sold. What began as an idea sparked by their young sons' love of reading has become over the years arguably the best-selling children's book series ever.
Since their inception, the Berenstain Bears stories have expanded to include picture books, beginning readers, and chapter books--even a hit TV show on PBS. Writing and illustrating the books has become a Berenstain family affair. Mike joined with his parents as a creative team in the late 1980s. The Bear family has expanded over the years as well. Sister Bear arrived in 1974, and baby Honey joined the family in 2000.
Though Stan died in 2005 and Jan in 2012, Mike continues to create the delightful Berenstain Bear adventures from his studio in Pennsylvania.
Ree Drummond
Ree Drummond is the #1 New York Times bestselling author of The Pioneer Woman Cooks, The Pioneer Woman Cooks: Food from My Frontier,  and The Pioneer Woman Cooks: A Year of Holidays. Ree's beloved website, The Pioneer Woman, was founded in 2006 and showcases her cooking, photography, and anecdotes about country life. Her cooking show, The Pioneer Woman, premiered on Food Network in 2011. Ree loves Ethel Merman songs, Lucille Ball, and The Godfather. She lives on a working cattle ranch in Oklahoma with her husband and four children.
Grace Gilman
Grace Gilman is a former children's book editor. She lives in New York City.
Kevin Henkes
Kevin Henkes has been praised both as a writer and as an illustrator and is the recipient of the Children's Literature Legacy Award for his lasting contribution to literature for children. He received the Caldecott Medal for Kitten's First Full Moon; Caldecott Honors for Waiting and Owen; two Newbery Honors—one for Olive's Ocean and one for The Year of Billy Miller—and Geisel Honors for Waiting and Penny and Her Marble. His other books include Sun Flower Lion, A Parade of Elephants, Chrysanthemum, and the beloved Lilly's Purple Plastic Purse. Kevin Henkes lives with his family in a house in Madison, Wisconsin.
Syd Hoff
Syd Hoff has given much pleasure to children everywhere as the author and illustrator of numerous children's books, including the favorite I Can Read books Sammy the Seal, The Horse in Harry's Room, and the Danny and the Dinosaur books. Born and raised in New York City, he studied at the National Academy of Design. His cartoons were a regular feature in the New Yorker after he sold his first cartoon to that magazine at the age of eighteen. His work also appeared in many other magazines, including Esquire and the Saturday Evening Post, and in a nationally syndicated daily feature.
Jane O'Connor
Jane O'Connor is an editor at a major publishing house who has written more than seventy books for children, including the New York Times bestselling Fancy Nancy series. She resides (that's fancy for lives) with her family in New York City.
Herman Parish
Herman Parish was in the fourth grade when his aunt, Peggy Parish, wrote the first book about Amelia Bedelia. The author lives in Princeton, New Jersey.
Rob Scotton
Rob Scotton is the bestselling author and illustrator of Russell the Sheep; Russell and the Lost Treasure; Russell's Christmas Magic; Splat the Cat; Love, Splat; Merry Christmas, Splat; and Scaredy-Cat, Splat! His work can also be found on greeting cards, ceramics, textiles, prints, stationery, and glassware. An honors graduate of Leicester Polytechnic, Rob now lives in Rutland, England, with his wife, Liz, who is also an artist. You can visit Rob Scotton online at www.robscotton.com.
Details
Imprint: HarperCollins
Format: Paperback
On Sale: 10/28/2014
ISBN: 9780062313294
ISBN10: 0062313290
Pages: 288
Trimsize: 9.000 x 6.000 in
Subcategory:
JUVENILE FICTION / Readers / Beginner
JUVENILE FICTION / Animals / Dinosaurs & Prehistoric Creatures
JUVENILE FICTION / Classics
More Great Danny and the Dinosaur I CAN READ! BOOKS
More Great I Can Read Level 1 BOOKS