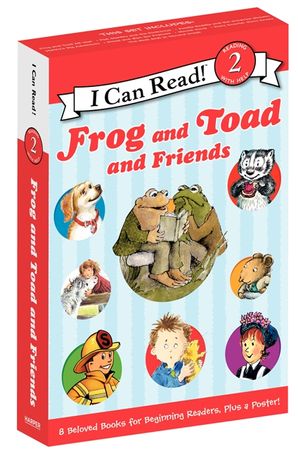 Frog and Toad and Friends Box Set
By Various,Jeff Brown,John Grogan,Catherine Hapka,Russell Hoban,Katharine Kenah,Arnold Lobel,Peggy Parish
Description
Featuring Frog and Toad and seven other beloved I Can Read characters together, this collection of favorite easy-to-read I Can Read stories is full of familiar faces and comes with a free poster starring our most popular characters!
 This Level Two slipcase is perfect for children who read on their own but still need a little help.
The collection includes the following eight new and classic Level Two I Can Read books:
Amelia Bedelia and the Surprise Shower
Best Seat in Second Grade
Bread and Jam for Frances
Flat Stanley and the Firehouse
Frog and Toad All Year
Marley's Big Adventure
Mouse Soup
Pony Scouts: Pony Crazy
Contributors
Various
HarperCollins Publishers is a proud supporter of First Book, a national nonprofit organization whose mission is to give children from low-income families the opportunity to read and own their own new books. The primary goal of First Book is to work with existing literacy programs to distribute new books to children who, for economic reasons, have little or no access to books. In this way, First Book effectively leverages the heroic efforts of local tutoring, mentoring, and family literacy organizations as they work to reach children who need help the most. First Book distributes millions of books to hundreds of thousands of children nationwide each year. For more information on First Book, please visit www.firstbook.org.
Jeff Brown
Jeff Brown created the beloved character of Flat Stanley as a bedtime story for his sons. He has written other outrageous books about the Lambchop family, including Flat Stanley, Stanley and the Magic Lamp, Invisible Stanley, Stanley's Christmas Adventure, Stanley in Space, and Stanley, Flat Again! You can learn more about Jeff Brown and Flat Stanley at www.flatstanleybooks.com.
John Grogan
John Grogan is the author of the #1 international bestseller Marley & Me: Life and Love with the World's Worst Dog, the bestselling middle-grade memoir Marley: A Dog Like No Other, and three #1 best-selling picture books: Bad Dog, Marley!, A Very Marley Christmas, and Marley Goes to School. John lives with his wife and their three children in the Pennsylvania countryside.
John Grogan ha sido un premiado reportero gráfico y columnista por más de veinticinco años. Vive en Pensilvania con su esposa Jenny y sus tres hijos.
Catherine Hapka
Catherine Hapka is the author of many books for children of all ages. She is too tall to ride ponies, though her mare, Gerri, still looks like one. Catherine takes riding lessons twice a week and lives on a farm with Gerri, three goats, a small flock of chickens, and too many cats.
Russell Hoban
Russell Hoban was the author of A Bargain for Frances, A Baby Sister for Frances, Best Friends for Frances, A Birthday for Frances, and Bread and Jam for Frances, all illustrated by Lillian Hoban. He also wrote Bedtime for Frances, illustrated by Garth Williams.
Katharine Kenah
Katharine Kenah's Family Favorite is her grandmother's grandmother's brownies. The recipe for these delicious, fudgy-rich treats has been passed down for generations. Besides these delightful easy readers about Room 75, Katharine has written The Dream Shop, Eggs Over Easy, and many exciting nonfiction books for children. She lives with her family in Granville, Ohio.
Arnold Lobel
Arnold Lobel (1933–1987) illustrated many wonderful children's books but is most beloved for his Frog and Toad stories, including the first one, Frog and Toad Are Friends, published in 1970. The books have garnered much acclaim, including a Caldecott Honor for Frog and Toad Are Friends and a Newbery Honor for Frog and Toad Together. These were followed by Frog and Toad All Year and Days with Frog and Toad.
Peggy Parish
Peggy Parish was born and grew up in Manning, South Carolina. Before moving to New York City, she taught school in the Panhandle country and in coal-mining areas. Her first job in New York City was with the Girl Scouts, and she now teaches the third grade at the Dalton School in Manhattan. Miss Parish is the author of several other books for children, including the popular Let's Be Indians.
Details
Imprint: HarperCollins
Format: Paperback
On Sale: 12/23/2014
ISBN: 9780062313324
ISBN10: 0062313320
Pages: 384
Trimsize: 9.000 x 6.000 in
Subcategory:
JUVENILE FICTION / Readers / Beginner
JUVENILE FICTION / Animals / General
JUVENILE FICTION / Social Issues / Friendship
More Great Frog and Toad I CAN READ! BOOKS
More Great I Can Read Level 2 BOOKS