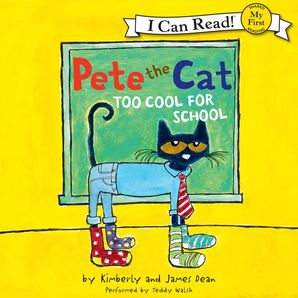 Read an excerpt
Pete the Cat: Too Cool for School
By James Dean,Kimberly Dean
Description
New York Times bestselling author and artist James Dean brings readers along for a groovy adventure at school with Pete the Cat!
Pete the Cat can't decide what to wear to school in Pete the Cat: Too Cool for School. With so many groovy options to choose from, Pete finds the perfect way to show off his creativity.
Pete the Cat: Too Cool for School is a My First I Can Read book, which means it's perfect for shared reading with a child.
Contributors
James Dean
James Dean is the original creator and illustrator of Pete the Cat. He is a self-taught artist originally from Fort Payne, Alabama. His passion for drawing became apparent at a young age, and as a child, you could find James drawing his favorite characters like Snoopy and Yogi Bear. 
James earned his degree in electrical engineering from Auburn University and went on to work for Georgia Power for a number of years. Eventually, he was called to pursue his art full-time and began selling his work at art festivals around the Southeast. 
It was during this time that he began creating paintings and drawing of his cat, Pete. The little blue cat showed up as a character in James's artwork around 1999 and has been a permanent fixture ever since. 
James Dean's art has been sold in more than ninety galleries and shops across the United States. He has devoted his paintings to Pete the Cat for fifteen years and turned his natural love for cats into his life's work. James published his first book, The Misadventures of Pete the Cat, a history of his artwork, in 2006, and he illustrated his first self-published children's book, Pete the Cat: I Love My White Shoes, in 2008. There are now almost 100 published Pete the Cat titles with more coming out all the time.
James is humbled every day by the success that this groovy blue cat has brought him. He says positively affecting children's lives is his number one priority, and he is grateful to have such an amazing audience to work for. 
Kimberly Dean
In 2004, Kimberly & James Dean sat down at their kitchen table to work on a children's book together. Their dream finally became a reality with the release of Pete the Cat and His Magic Sunglasses. Both left corporate jobs in the late nineties (James was an electrical engineer, Kimberly worked in the press office of the governor of Georgia) to pursue their passion for art, and they have experienced a life made up of strange and wonderful coincidences ever since. Pete the Cat has brought magic into their lives. They work in side-by-side studios in Savannah, sharing their home with five cats and Emma the pug.
Details
Publisher: HarperCollins
Imprint: HarperCollins
Format: Downloadable audio file
On Sale: 02/25/2014
ISBN: 9780062322319
ISBN10: 0062322311
Trimsize: x in
Subcategory:
JUVENILE FICTION / Readers / Beginner
JUVENILE FICTION / Animals / Cats
JUVENILE FICTION / School & Education
More Great Pete the Cat I CAN READ! BOOKS
More Great My First I Can Read BOOKS