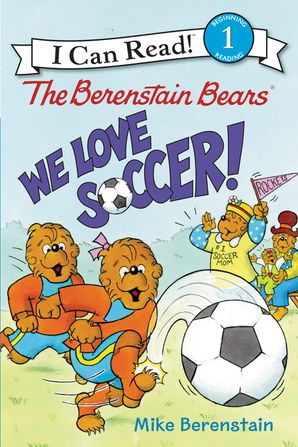 Read an excerpt
The Berenstain Bears: We Love Soccer!
By Mike Berenstain, Illustrated by Mike Berenstain
Description
The Berenstain Bears win big for their family in this exciting addition to the classic New York Times bestselling series.
From passing the ball to scoring goals, there's enough excitement on the soccer field to fill a sunny afternoon! But when Mama starts getting too involved, it's up to the cubs to remind her what playing soccer is really all about.
The Berenstain Bears: We Love Soccer! is a Level One I Can Read book, which means it's perfect for children learning to sound out words and sentences. Whether shared at home or in a classroom, the short sentences, familiar words, and simple concepts of Level One books support success for children eager to start reading on their own.
Contributors
Mike Berenstain
Mike Berenstain lives in Bucks County, Pennsylvania, where he continues to write and illustrate wonderful new adventures for Mama, Papa, Brother, Sister, and Honey Bear.
Illustrated by Mike Berenstain
Details
Publisher: HarperCollins
Imprint: HarperCollins
Format: Paperback
On Sale: 01/05/2016
ISBN: 9780062350138
ISBN10: 0062350137
Pages: 32
Trimsize: 9.000 x 6.000 in
Subcategory:
JUVENILE FICTION / Readers / Beginner
JUVENILE FICTION / Animals / Bears
JUVENILE FICTION / Sports & Recreation / Soccer
More Great The Berenstain Bears I CAN READ! BOOKS
More Great I Can Read Level 1 BOOKS