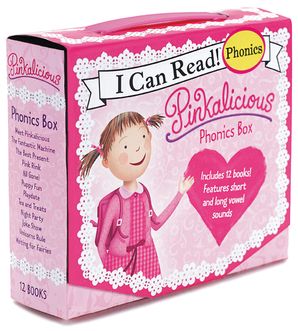 Pinkalicious 12-Book Phonics Fun!
By Victoria Kann, Illustrated by Victoria Kann
Description
This set of 12 simple and fun Pinkalicious storybooks is an excellent choice to share at home or in the preschool or kindergarten classroom. It's a fun way to learn to read and as a supplement for activity books for children ages 3 to 6. Enter into the world of reading with I Can Read Phonics! 
Help make your emergent reader's phonics skills pinkaperfect with this phonics box set from #1 New York Times bestselling author and artist Victoria Kann!
Reviewed by a phonics expert, these twelve short full-color books feature repeated examples of short and long vowel sounds and common sight words. Each of the simple stories in this box set is designed to teach kids how to master reading while having fun with Pinkalicious.
Phonics teaches children the relationship between letters and the sounds they make. A child who has mastered these relationships has an excellent foundation for learning to read and spell. According to the National Institute of Child Health & Human Development, a child who has learned phonics has a method to recognize familiar words and "decode" unfamiliar ones. 
Contributors
Victoria Kann
Victoria Kann is the award-winning illustrator and author of the picture book series featuring the whimsical and effervescent character Pinkalicious. Victoria coauthored and illustrated the first two books, Pinkalicious and Purplicious, and cowrote the play Pinkalicious: The Musical.  She wrote and illustrated the New York Times number-one bestsellers Goldilicious, Silverlicious, Emeraldalicious, and Aqualicious as well as Peterrific, starring Pinkalicious's little brother! Victoria is the co-executive producer of Pinkalicious & Peterrific on PBS Kids.
Illustrated by Victoria Kann
Details
Imprint: HarperCollins
Format: Paperback
On Sale: 06/23/2015
ISBN: 9780062352156
ISBN10: 0062352156
Pages: 144
Trimsize: 5.000 x 5.000 in
Subcategory:
JUVENILE FICTION / Readers / Beginner
JUVENILE FICTION / Concepts / Words
JUVENILE FICTION / Concepts / Sounds
More Great Pinkalicious I CAN READ! BOOKS
More Great My First I Can Read BOOKS