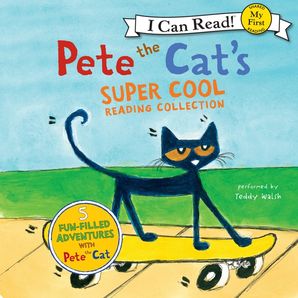 Pete the Cat's Super Cool Reading Collection
By James Dean
Other Formats
Description
Pete the Cat is back in five groovy I Can Read adventures! Beginning readers will love these cool stories about everyone's favorite cat—now all together in one collectible box!
This set includes:
Pete the Cat: Too Cool for School
Pete the Cat: Play Ball!
Pete the Cat: Pete at the Beach
Pete the Cat: Pete's Big Lunch
Pete the Cat: A Pet for Pete
Contributors
James Dean
James Dean's art has sold in more than ninety galleries and shops across the United States. He has devoted his paintings to Pete the Cat for fifteen years and has turned his natural love for cats into his life's work. James published his first adult book, The Misadventures of Pete the Cat, a history of his artwork, in 2006. He illustrated his first self-published children's book, Pete the Cat: I Love My White Shoes, in 2008, and the follow-up book, Pete the Cat: Rocking in My School Shoes, in 2011. James lives in Savannah, Georgia, with his wife, four cats, and one dog. You can visit him online at www.petethecat.com.
Details
Publisher: HarperCollins
Imprint: HarperCollins
Format: Downloadable audio file
On Sale: 07/08/2014
ISBN: 9780062365897
ISBN10: 0062365894
Trimsize: x in
Subcategory:
JUVENILE FICTION / Readers / Beginner
JUVENILE FICTION / Animals / Cats
JUVENILE FICTION / Humorous Stories
More Great Pete the Cat I CAN READ! BOOKS
More Great My First I Can Read BOOKS