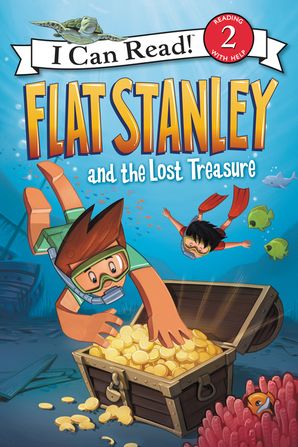 Read an excerpt
Flat Stanley and the Lost Treasure
By Jeff Brown, Illustrated by Macky Pamintuan
Description
Sometimes being flat comes in handy for Flat Stanley—like when he is surfing or rescuing a trapped dolphin from a net. In this exciting adventure, Flat Stanley and his brother, Arthur, find sunken treasure in an old shipwreck. But Stanley has to get rid of his gold bar in order to squeeze through the net and rescue the dolphin. Will they ever find the treasure again?
This is a Level Two I Can Read book, geared for kids who read on their own but still need a little help.
Contributors
Jeff Brown
Jeff Brown created the beloved character of Flat Stanley as a bedtime story for his sons. He has written other outrageous books about the Lambchop family, including Flat Stanley, Stanley and the Magic Lamp, Invisible Stanley, Stanley's Christmas Adventure, Stanley in Space, and Stanley, Flat Again! You can learn more about Jeff Brown and Flat Stanley at www.flatstanleybooks.com.
Illustrated by Macky Pamintuan
Details
Imprint: HarperCollins
Format: Hardcover
On Sale: 07/05/2016
ISBN: 9780062365965
ISBN10: 0062365967
Pages: 32
Trimsize: 9.000 x 6.000 in
Subcategory:
JUVENILE FICTION / Readers / Beginner
JUVENILE FICTION / Family / General
JUVENILE FICTION / Sports & Recreation / Water Sports
More Great Flat Stanley I CAN READ! BOOKS
More Great I Can Read Level 2 BOOKS