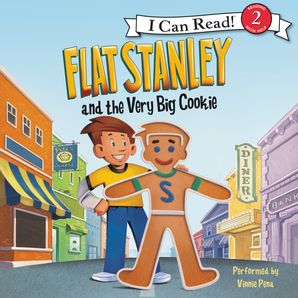 Read an excerpt
Flat Stanley and the Very Big Cookie
By Jeff Brown
Description
Flat Stanley loves to help Mr. Pete the Baker make his delicious treats! When another baker begins taking away all his business, Mr. Pete comes up with a BIG idea to save his bakery, but he needs help from Stanley and Arthur! Will they succeed or will everything just fall flat? Beginning readers with a sweet tooth will love Flat Stanley's yummiest adventure yet!
Join Flat Stanley in this easy-to-follow Level Two Can Read book, geared for kids who read on their own but still need a little help.
Contributors
Jeff Brown
Jeff Brown created the beloved character of Flat Stanley as a bedtime story for his sons. He has written other outrageous books about the Lambchop family, including Flat Stanley, Stanley and the Magic Lamp, Invisible Stanley, Stanley's Christmas Adventure, Stanley in Space, and Stanley, Flat Again! You can learn more about Jeff Brown and Flat Stanley at www.flatstanleybooks.com.
Details
Publisher: HarperCollins
Imprint: HarperCollins
Format: Downloadable audio file
On Sale: 01/27/2015
ISBN: 9780062367969
ISBN10: 006236796X
Trimsize: x in
Subcategory:
JUVENILE FICTION / Readers / Beginner
JUVENILE FICTION / Cooking & Food
More Great Flat Stanley I CAN READ! BOOKS
More Great I Can Read Level 2 BOOKS