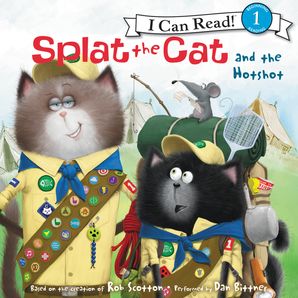 Read an excerpt
Splat the Cat and the Hotshot
By Rob Scotton
Description
When Splat meets the new cat scout, Scott, he's in awe of what Scott can do. Scott's the best at everything! Even though Splat can't build the biggest fire or tie the best knot, he's talented in his own way. Soon Splat learns to appreciate his own talents—and the power of teamwork!
Beginning readers will laugh along with Splat as he discovers his cool cat talents.
Contributors
Rob Scotton
Rob Scotton is the bestselling author and illustrator of Russell the Sheep; Russell and the Lost Treasure; Russell's Christmas Magic; Splat the Cat; Love, Splat; Merry Christmas, Splat; and Scaredy-Cat, Splat! His work can also be found on greeting cards, ceramics, textiles, prints, stationery, and glassware. An honors graduate of Leicester Polytechnic, Rob now lives in Rutland, England, with his wife, Liz, who is also an artist. You can visit Rob Scotton online at www.robscotton.com.
Details
Publisher: HarperCollins
Imprint: HarperCollins
Format: Downloadable audio file
On Sale: 02/03/2015
ISBN: 9780062367976
ISBN10: 0062367978
Trimsize: x in
Subcategory:
JUVENILE FICTION / Readers / Beginner
JUVENILE FICTION / Animals / Cats
JUVENILE FICTION / Humorous Stories
More Great Splat the Cat I CAN READ! BOOKS
More Great I Can Read Level 1 BOOKS