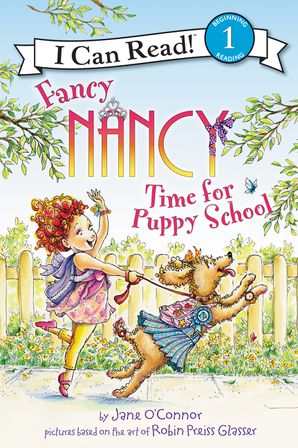 Read an excerpt
Fancy Nancy: Time for Puppy School
By Jane O'Connor, Illustrated by Robin Preiss Glasser
Description
Ooh la la—school starts soon! Fancy Nancy can't wait to go back, but she'll miss Frenchy very much. Nancy's loved playing with her favorite puppy all summer, but sometimes Frenchy can be a bit naughty. When she gets into trouble one too many times, the Clancys decide that it's time for Frenchy to go to school, too—puppy school! But will Frenchy change her doggy ways?
Beginning readers will love joining Nancy and Frenchy as they get ready for school in this Fancy Nancy I Can Read. Time for Puppy School is the newest work from New York Times bestselling team Jane O'Connor and Robin Preiss Glasser.
Time for Puppy School is a Level One I Can Read book, which means it's perfect for children learning to sound out words and sentences.
Contributors
Jane O'Connor
Jane O'Connor has always had a secret fondness for froufrou. An editor at a major publishing house, she has written more than thirty books for children. She lives with her family in the glamour capital of the world – New York City.
Robin Preiss Glasser, who habitually sports glasses and jeans, discovered her "inner Nancy" while illustrating this book. "Wearing lace-trimmed socks helps me draw better," she says. She has illustrated many books and lives in Southern California with her family and tiara collection.
Illustrated by Robin Preiss Glasser
Details
Imprint: HarperCollins
Format: Hardcover
On Sale: 06/20/2017
ISBN: 9780062377876
ISBN10: 0062377876
Pages: 32
Trimsize: 9.000 x 6.000 in
Subcategory:
JUVENILE FICTION / Readers / Beginner
JUVENILE FICTION / Animals / Dogs
JUVENILE FICTION / Animals / Baby Animals
More Great I Can Read Level 1 BOOKS