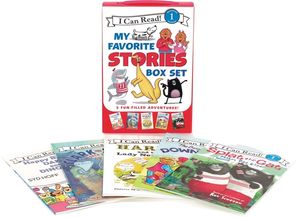 I Can Read My Favorite Stories Box Set
By Various,Stan & Jan Berenstain,Ree Drummond,Bruce Hale,Syd Hoff,Rob Scotton, Illustrated by Various,Stan & Jan Berenstain,Diane deGroat
Description
Featuring five beloved I Can Reads, this collection of favorite easy-to-read stories is full of familiar faces and new friends. This Level One box set with handle is perfect for children learning to sound out words and sentences.
This collection includes the following five new and classic Level One I Can Read books, together for the first time:
Happy Birthday, Danny and the Dinosaur!
Clark the Shark: Tooth Trouble
The Berenstain Bears: Down on the Farm
Splat the Cat Makes Dad Glad
Harry and the Lady Next Door
Contributors
Various
HarperCollins Publishers is a proud supporter of First Book, a national nonprofit organization whose mission is to give children from low-income families the opportunity to read and own their own new books. The primary goal of First Book is to work with existing literacy programs to distribute new books to children who, for economic reasons, have little or no access to books. In this way, First Book effectively leverages the heroic efforts of local tutoring, mentoring, and family literacy organizations as they work to reach children who need help the most. First Book distributes millions of books to hundreds of thousands of children nationwide each year. For more information on First Book, please visit www.firstbook.org.
Illustrated by Various
Stan & Jan Berenstain
Stan & Jan Berenstain began writing the Berenstain Bears series in 1962, with The Big Honey Hunt. Since then more than 250 Berenstain Bears books have been published, and sales of their series have exceeded 260 million copies. Stan and Jan have left behind a legacy of arguably the best-selling children's book series ever. Making the books has long been a family affair, with son Mike writing and illustrating new stories about everyone's favorite bear family. You can visit the Berenstains online at www.berenstainbears.com.
Ree Drummond
Ree Drummond is the #1 New York Times bestselling author of The Pioneer Woman Cooks, The Pioneer Woman Cooks: Food from My Frontier,  and The Pioneer Woman Cooks: A Year of Holidays. Ree's beloved website, The Pioneer Woman, was founded in 2006 and showcases her cooking, photography, and anecdotes about country life. Her cooking show, The Pioneer Woman, premiered on Food Network in 2011. Ree loves Ethel Merman songs, Lucille Ball, and The Godfather. She lives on a working cattle ranch in Oklahoma with her husband and four children.
Bruce Hale
Bruce Hale has written and/or illustrated over sixty books for kids and is the author of Clark the Shark; Clark the Shark Dares to Share; the award-winning Chet Gecko Mysteries series; Snoring Beauty, one of Oprah's Recommended Reads for Kids; and the School for S.P.I.E.S. series. In his free time, Bruce enjoys hiking, watching movies, and making music. He lives in Santa Barbara, California, with his wife, dog, and many hats. You can catch him online at www.brucehale.com.
Syd Hoff
Syd Hoff has given much pleasure to children everywhere as the author and illustrator of numerous children's books, including the favorite I Can Read books Sammy the Seal, The Horse in Harry's Room, and the Danny and the Dinosaur books. Born and raised in New York City, he studied at the National Academy of Design. His cartoons were a regular feature in the New Yorker after he sold his first cartoon to that magazine at the age of eighteen. His work also appeared in many other magazines, including Esquire and the Saturday Evening Post, and in a nationally syndicated daily feature.
Rob Scotton
Rob Scotton is the bestselling author and illustrator of Russell the Sheep; Russell and the Lost Treasure; Russell's Christmas Magic; Splat the Cat; Love, Splat; Merry Christmas, Splat; and Scaredy-Cat, Splat! His work can also be found on greeting cards, ceramics, textiles, prints, stationery, and glassware. An honors graduate of Leicester Polytechnic, Rob now lives in Rutland, England, with his wife, Liz, who is also an artist. You can visit Rob Scotton online at www.robscotton.com.
Illustrated by Stan & Jan Berenstain
Illustrated by Diane deGroat
Details
Imprint: HarperCollins
Format: Paperback
On Sale: 10/06/2015
ISBN: 9780062385345
ISBN10: 0062385348
Pages: 160
Trimsize: 9.000 x 6.000 in
Subcategory:
JUVENILE FICTION / Readers / Beginner
JUVENILE FICTION / Animals / General
JUVENILE FICTION / Social Issues / Friendship
More Great Charlie the Ranch Dog I CAN READ! BOOKS
More Great I Can Read Level 1 BOOKS