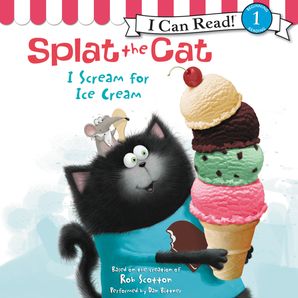 Read an excerpt
Splat the Cat: I Scream for Ice Cream
By Rob Scotton
Description
Splat's class is going on a year-end field trip to the ice cream factory. Splat is extremely excited thinking about the mountain of ice cream he's going to eat. But when things don't go as planned, that ice cream mountain turns out to be more of an avalanche. It's up to Splat and his classmates to save the day!
Beginning readers will scream for more Splat the Cat fun after devouring this delectable tale.
Contributors
Rob Scotton
Rob Scotton is the bestselling author and illustrator of Russell the Sheep; Russell and the Lost Treasure; Russell's Christmas Magic; Splat the Cat; Love, Splat; Merry Christmas, Splat; and Scaredy-Cat, Splat! His work can also be found on greeting cards, ceramics, textiles, prints, stationery, and glassware. An honors graduate of Leicester Polytechnic, Rob now lives in Rutland, England, with his wife, Liz, who is also an artist. You can visit Rob Scotton online at www.robscotton.com.
Details
Publisher: HarperCollins
Imprint: HarperCollins
Format: Downloadable audio file
On Sale: 04/21/2015
ISBN: 9780062398017
ISBN10: 0062398016
Trimsize: x in
Subcategory:
JUVENILE FICTION / Readers / Beginner
JUVENILE FICTION / Animals / Cats
JUVENILE FICTION / Humorous Stories
More Great Splat the Cat I CAN READ! BOOKS
More Great I Can Read Level 1 BOOKS