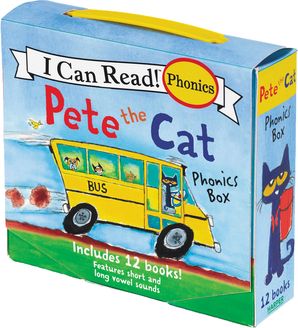 Pete the Cat 12-Book Phonics Fun!
By James Dean, Illustrated by James Dean
Description
Pete the Cat helps kids learn to read with phonics! Who knew reading could be so groovy?
This set of 12 simple and fun Pete the Cat storybooks is an excellent choice to share with your beginning reader. It's a fun way to learn to read and as a supplement for activity books for children ages 3 to 6. Enter into the world of reading with My First I Can Read! 
Reviewed by a phonics expert, these 12 short full-color books feature repeated examples of short and long vowel sounds and common sight words. Each of the simple stories in this box set is designed to teach kids how to master reading while rocking out with Pete the Cat.
Phonics teaches children the relationship between letters and the sounds they make. A child who has mastered these relationships has an excellent foundation for learning to read and spell. According to the National Institute of Child Health & Human Development, a child who has learned phonics has a method to recognize familiar words and "decode" unfamiliar ones.
Contributors
James Dean
James Dean is the original creator and illustrator of Pete the Cat. He is a self-taught artist originally from Fort Payne, Alabama. His passion for drawing became apparent at a young age, and as a child, you could find James drawing his favorite characters like Snoopy and Yogi Bear. 
James earned his degree in electrical engineering from Auburn University and went on to work for Georgia Power for a number of years. Eventually, he was called to pursue his art full-time and began selling his work at art festivals around the Southeast. 
It was during this time that he began creating paintings and drawing of his cat, Pete. The little blue cat showed up as a character in James's artwork around 1999 and has been a permanent fixture ever since. 
James Dean's art has been sold in more than ninety galleries and shops across the United States. He has devoted his paintings to Pete the Cat for fifteen years and turned his natural love for cats into his life's work. James published his first book, The Misadventures of Pete the Cat, a history of his artwork, in 2006, and he illustrated his first self-published children's book, Pete the Cat: I Love My White Shoes, in 2008. There are now almost 100 published Pete the Cat titles with more coming out all the time.
James is humbled every day by the success that this groovy blue cat has brought him. He says positively affecting children's lives is his number one priority, and he is grateful to have such an amazing audience to work for. 
Illustrated by James Dean
Details
Imprint: HarperCollins
Format: Paperback
On Sale: 01/03/2017
ISBN: 9780062404527
ISBN10: 0062404520
Pages: 144
Trimsize: 5.000 x 5.000 in
Subcategory:
JUVENILE FICTION / Readers / Beginner
JUVENILE FICTION / Concepts / Words
JUVENILE FICTION / Concepts / Sounds
More Great Pete the Cat I CAN READ! BOOKS
More Great My First I Can Read BOOKS