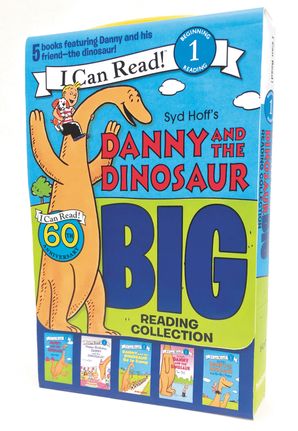 Danny and the Dinosaur: Big Reading Collection
By Syd Hoff, Illustrated by Syd Hoff
Description
Readers first fell in love with Danny and his prehistoric pal in the I Can Read classic Danny and the Dinosaur, created by Syd Hoff in 1958. Now the popular pair are together again in this five-book box set!
Danny and his best buddy, the dinosaur, always embark on dinosaur-size adventures when they are together! This box set with handle and Velcro closure is the perfect starter library for a young reader on the go.
This collection by beloved author and illustrator Syd Hoff includes the best-loved paperback classics Danny and the Dinosaur; Happy Birthday, Danny and the Dinosaur!; Danny and the Dinosaur Go to Camp, Danny and the Dinosaur: Too Tall; and Danny and the Dinosaur and the New Puppy.
These are Level One I Can Read books that are perfect for children learning to sound out words and sentences.
Contributors
Syd Hoff
Syd Hoff has given much pleasure to children everywhere as the author and illustrator of numerous children's books, including the favorite I Can Read books Sammy the Seal, The Horse in Harry's Room, and the Danny and the Dinosaur books. Born and raised in New York City, he studied at the National Academy of Design. His cartoons were a regular feature in the New Yorker after he sold his first cartoon to that magazine at the age of eighteen. His work also appeared in many other magazines, including Esquire and the Saturday Evening Post, and in a nationally syndicated daily feature.
Illustrated by Syd Hoff
Details
Imprint: HarperCollins
Format: Paperback
On Sale: 09/26/2017
ISBN: 9780062410474
ISBN10: 0062410474
Pages: 190
Trimsize: 9.000 x 6.000 in
Subcategory:
JUVENILE FICTION / Readers / Beginner
JUVENILE FICTION / Animals / Dinosaurs & Prehistoric Creatures
JUVENILE FICTION / Humorous Stories
More Great Danny and the Dinosaur I CAN READ! BOOKS
More Great I Can Read Level 1 BOOKS