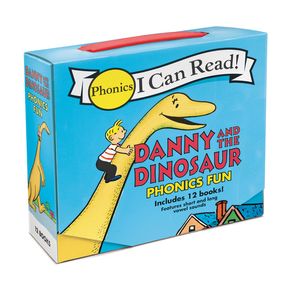 Danny and the Dinosaur Phonics Fun
By Syd Hoff, Illustrated by Syd Hoff
Description
Danny and the Dinosaur help kids learn to read with phonics. Learning to read has never been so dino-tastic!
Reviewed by a phonics expert, these twelve short full-color books feature examples of short and long vowel sounds and common sight words.
Each of the 12 simple stories in this box set is designed to teach kids how to master reading while having fun with Danny and the Dinosaur.
Phonics teaches children the relationship between letters and the sounds they make. A child who has mastered these relationships has an excellent foundation for learning to read and spell. According to the National Institute of Child Health & Human Development, a child who has learned phonics has a method to recognize familiar words and "decode" unfamiliar ones.
Contributors
Syd Hoff
Syd Hoff has given much pleasure to children everywhere as the author and illustrator of numerous children's books, including the favorite I Can Read books Sammy the Seal, The Horse in Harry's Room, and the Danny and the Dinosaur books. Born and raised in New York City, he studied at the National Academy of Design. His cartoons were a regular feature in the New Yorker after he sold his first cartoon to that magazine at the age of eighteen. His work also appeared in many other magazines, including Esquire and the Saturday Evening Post, and in a nationally syndicated daily feature.
Illustrated by Syd Hoff
Details
Imprint: HarperCollins
Format: Paperback
On Sale: 09/03/2019
ISBN: 9780062410634
ISBN10: 0062410636
Pages: 144
Trimsize: 5.000 x 5.000 in
Subcategory:
JUVENILE FICTION / Readers / Beginner
JUVENILE FICTION / Animals / Dinosaurs & Prehistoric Creatures
JUVENILE FICTION / Social Issues / Friendship
More Great Danny and the Dinosaur I CAN READ! BOOKS
More Great My First I Can Read BOOKS