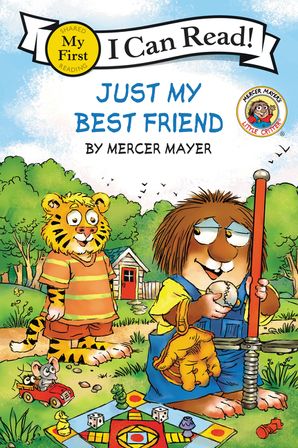 Little Critter: Just My Best Friend
By Mercer Mayer, Illustrated by Mercer Mayer
Other Formats
Description
Join Mercer Mayer's classic and beloved character, Little Critter®, as he plans the most fun sleepover ever!
Little Critter invites Tiger to have a sleepover in his tree house, and he wants everything to be just right. Little Critter can't wait to have the best time ever, from playing games to eating treats.
But when things don't go according to his plan, Little Critter has to learn that change is okay when you've got a best friend.
Little Critter: Just My Best Friend is a My First I Can Read book, which means it's perfect for shared reading with a child.
Contributors
Mercer Mayer
Mercer Mayer is the creator of the enduringly popular Little Critter books. Drawing from his own childhood adventures for inspiration, Mayer has created a beloved and classic character in Little Critter. You can visit him at www.littlecritter.com.
Illustrated by Mercer Mayer
Details
Publisher: HarperCollins
Imprint: HarperCollins
Format: Paperback
On Sale: 09/03/2019
ISBN: 9780062431462
ISBN10: 0062431463
Pages: 32
Trimsize: 9.000 x 6.000 in
Subcategory:
JUVENILE FICTION / Readers / Beginner
JUVENILE FICTION / Sports & Recreation / Camping & Outdoor Activities
JUVENILE FICTION / Social Issues / Friendship
More Great Little Critter I CAN READ! BOOKS
More Great My First I Can Read BOOKS