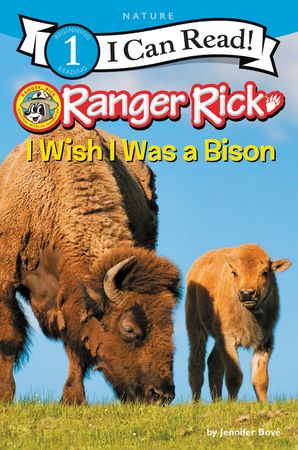 Ranger Rick: I Wish I Was a Bison
By Jennifer Bové
Description
Explore the lives of bison with Ranger Rick in this beginning reader with full-color photos of bison in the wild! 
This I Can Read book is an excellent choice to share during homeschooling, in particular for children ages 5 to 7 who are ready to read independently. It's a fun way to keep your child engaged and as a supplement for activity books for children.
What if you wished you were a bison and then you became one? Could you talk like a bison, with grunts and snorts? Could you eat like a bison, chomping lots and lots of grass? And would you want to? Find out!
Ranger Rick explorers can learn all about bison in this reader full of fascinating facts, vivid wildlife photographs, a Wild Words glossary, and a hands-on activity that teaches kids how to to play bison Frisbee!
Ranger Rick, the iconic raccoon ambassador from Ranger Rick magazines, engages young readers by comparing and contrasting the life of the bison to the life of the reader. For example, a call-out from Ranger Rick asks: would you rather take a bath or wallow in the dirt?
Ranger Rick: I Wish I Was a Bison is a Level One I Can Read book, which means it's perfect for children learning to sound out words and sentences.
Contributors
Jennifer Bové
Jennifer Bove is an award-winning contributor to
Ranger Rick Jr
., as well as a children's book author. Jen's work is inspired by nature and her background in field biology, which brought her face-to-face with wild things like elephants and snakes. She lives with her family under the wide-open skies of Wyoming.
Details
Imprint: HarperCollins
Format: Hardcover
On Sale: 11/05/2019
ISBN: 9780062432261
ISBN10: 0062432265
Pages: 32
Trimsize: 9.000 x 6.000 in
Subcategory:
JUVENILE NONFICTION / Readers / Beginner
JUVENILE NONFICTION / Animals / Mammals
JUVENILE NONFICTION / Science & Nature / General
More Great I Can Read Level 1 BOOKS