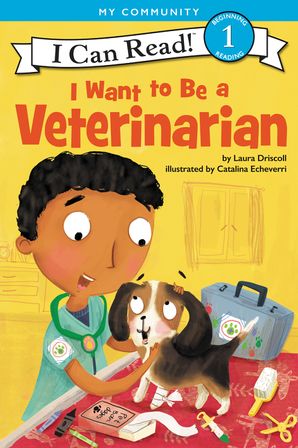 Read an excerpt
I Want to Be a Veterinarian
By Laura Driscoll, Illustrated by Catalina Echeverri
Description
For the child who says, "I want to be a veterinarian when I grow up!" And for any child who wants a gentle behind-the-scenes look at being a veterinarian.
Veterinarians help sick and hurt animals feel better. Did you know that there are many different ways to be a veterinarian? When a father and child bring Gus the dog to his check-up, they learn that there are vets who work with very large animals, vets who work with wild animals—and more.
I Want to Be a Veterinarian is part of a new I Can Read series that introduces young readers to important community helpers. This Level One I Can Read is perfect for children learning to sound out words and sentences.
Contributors
Laura Driscoll
Laura Driscoll is the author of numerous first chapter and beginning reader books, including We Are Twins and The Bravest Cat! She lives in central Connecticut with her husband and two children.
Illustrated by Catalina Echeverri
Details
Imprint: HarperCollins
Format: Hardcover
On Sale: 10/02/2018
ISBN: 9780062432476
ISBN10: 0062432478
Pages: 32
Trimsize: 9.000 x 6.000 in
Subcategory:
JUVENILE NONFICTION / Readers / Beginner
JUVENILE NONFICTION / Animals / Pets
JUVENILE NONFICTION / Careers
More Great My Community I CAN READ! BOOKS
More Great I Can Read Level 1 BOOKS