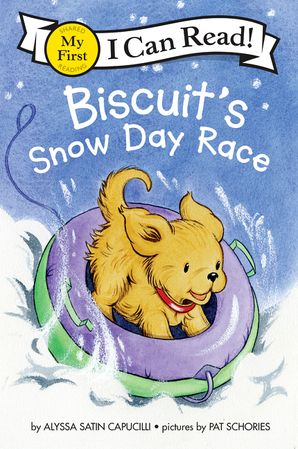 Biscuit's Snow Day Race
By Alyssa Satin Capucilli, Illustrated by Pat Schories
Description
Look, Biscuit, it's snowing!
Snow days are snow much fun! Will Biscuit the little yellow puppy get to play in the sledding race?
For the first time, everyone's favorite little yellow puppy stars in an I Can Read with a snow theme!
Biscuit's Snow Day Race is a My First I Can Read, perfect for shared reading with a child.
Contributors
Alyssa Satin Capucilli
Alyssa Satin Capucilli is the author of the first story about Tulip and Rex, Tulip Loves Rex, as well as the bestselling Biscuit books and many other beloved children's books. She lives in a book-filled home in Hastings-on-Hudson, New York.
Illustrated by Pat Schories
Details
Publisher: HarperCollins
Imprint: HarperCollins
Format: Paperback
On Sale: 10/01/2019
ISBN: 9780062436207
ISBN10: 0062436201
Pages: 32
Trimsize: 9.000 x 6.000 in
Subcategory:
JUVENILE FICTION / Readers / Beginner
JUVENILE FICTION / Animals / Dogs
JUVENILE FICTION / Animals / Pets
More Great Biscuit I CAN READ! BOOKS
More Great My First I Can Read BOOKS