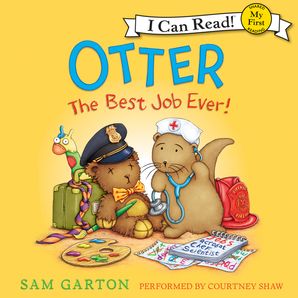 Read an excerpt
Otter: The Best Job Ever!
By Samuel Garton
Description
Otter—the irrepressible picture book character from I Am Otter, Otter in Space, and Otter Loves Halloween!—tries to find the perfect job for herself and Teddy. Sure to be adored by fans of Llama Llama.
Otter and Teddy want to have jobs, just like Otter Keeper. Otter helps Teddy try many different things: an acrobat, an explorer, a cook. But finding the right job is a lot harder than they thought!
Otter: The Best Job Ever! is a My First I Can Read book, which means it's perfect for shared reading with a child.
Contributors
Samuel Garton
Sam Garton began writing and illustrating stories about Otter and her world on the blog I Am Otter: The Unheard Ramblings of a Modern Day Domestic Otter in 2009. He lives in London. He met a real otter once. It bit him.
You can visit Otter at www.iamotter.co.uk.
Details
Publisher: Balzer + Bray
Imprint: Balzer + Bray
Format: Downloadable audio file
On Sale: 06/07/2016
ISBN: 9780062468109
ISBN10: 0062468103
Trimsize: x in
Subcategory:
JUVENILE FICTION / Readers / Beginner
JUVENILE FICTION / Animals / Mammals
JUVENILE FICTION / Social Issues / Friendship
More Great My First I Can Read BOOKS