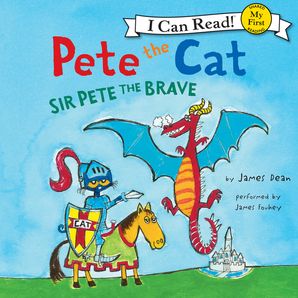 Read an excerpt
Pete the Cat: Sir Pete the Brave
By James Dean
Description
New York Times bestselling author and artist James Dean brings readers a new story about the most gallant cat around—Pete! This time Pete is a knight on an adventure to save a pal in Pete the Cat: Sir Pete the Brave.
When Lady Callie, the most awesome harpist in all the land, goes missing, it's up to Sir Pete to save her. But when he ends up trapped in a dragon's lair, Lady Callie might have to do the saving.
Pete the Cat: Sir Pete the Brave is a My First I Can Read book, which means it's perfect for shared reading with a child.
Contributors
James Dean
James Dean's art has sold in more than ninety galleries and shops across the United States. He has devoted his paintings to Pete the Cat for fifteen years and has turned his natural love for cats into his life's work. James published his first adult book, The Misadventures of Pete the Cat, a history of his artwork, in 2006. He illustrated his first self-published children's book, Pete the Cat: I Love My White Shoes, in 2008, and the follow-up book, Pete the Cat: Rocking in My School Shoes, in 2011. James lives in Savannah, Georgia, with his wife, four cats, and one dog. You can visit him online at www.petethecat.com.
Details
Publisher: HarperCollins
Imprint: HarperCollins
Format: Downloadable audio file
On Sale: 06/28/2016
ISBN: 9780062468550
ISBN10: 0062468553
Trimsize: x in
Subcategory:
JUVENILE FICTION / Readers / Beginner
JUVENILE FICTION / Animals / Cats
JUVENILE FICTION / Humorous Stories
More Great Pete the Cat I CAN READ! BOOKS
More Great My First I Can Read BOOKS