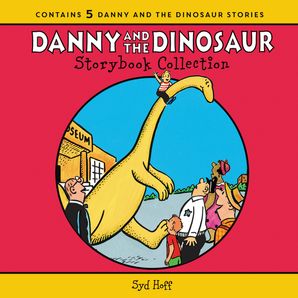 Read an excerpt
The Danny and the Dinosaur Storybook Collection
By Syd Hoff, Illustrated by Syd Hoff
Description
Danny and the Dinosaur fans will love this paper-over-board storybook collection that features all the best-loved stories starring Danny and his prehistoric pal—now in one volume!
Join these beloved friends as they go to camp, celebrate a birthday, and so much more.
This collection features the full text and art for Danny and the Dinosaur; Happy Birthday, Danny and the Dinosaur!; Danny and the Dinosaur Go to Camp; Danny and the Dinosaur: Too Tall; and Danny and the Dinosaur and the New Puppy.
Contributors
Syd Hoff
Syd Hoff has given much pleasure to children everywhere as the author and illustrator of numerous children's books, including the favorite I Can Read books Sammy the Seal, The Horse in Harry's Room, and the Danny and the Dinosaur books. Born and raised in New York City, he studied at the National Academy of Design. His cartoons were a regular feature in the New Yorker after he sold his first cartoon to that magazine at the age of eighteen. His work also appeared in many other magazines, including Esquire and the Saturday Evening Post, and in a nationally syndicated daily feature.
Illustrated by Syd Hoff
Details
Imprint: HarperCollins
Format: Hardcover
On Sale: 09/27/2016
ISBN: 9780062470706
ISBN10: 0062470701
Pages: 192
Trimsize: 9.000 x 9.000 in
Subcategory:
JUVENILE FICTION / Readers / Beginner
JUVENILE FICTION / Animals / Dinosaurs & Prehistoric Creatures
JUVENILE FICTION / Social Issues / Friendship
More Great Danny and the Dinosaur I CAN READ! BOOKS
More Great I Can Read Level 1 BOOKS