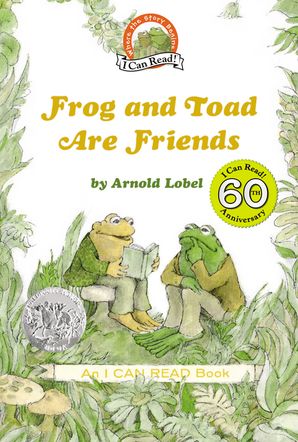 Read an excerpt
Frog and Toad Are Friends
By Arnold Lobel, Illustrated by Arnold Lobel
Other Formats
Description
Celebrate the power of friendship in these five adventurous stories starring Frog and Toad—a Caldecott Honor Book!
From writing letters to going swimming, telling stories to finding lost buttons, Frog and Toad are always there for each other—just as best friends should be. Frog and Toad Are Friends is a Level Two I Can Read book, geared for kids who read on their own but still need a little help. This special paper-over-board commemorative edition celebrates the 60th anniversary of I Can Read books, includes the complete original stories, and features a foil cover, an anniversary burst, and eight pages of bonus material on the history of I Can Read! This beautiful edition is perfect for gift-giving.
The classic Frog and Toad stories by Arnold Lobel have won numerous awards and honors, including a Newbery Honor (Frog and Toad Together), a Caldecott Honor (Frog and Toad are Friends), ALA Notable Children's Book, Fanfare Honor List (The Horn Book), School Library Journal Best Children's Book, and Library of Congress Children's Book.
Contributors
Arnold Lobel
ARNOLD LOBEL is the author of 28 much-loved books for children, including the acclaimed Frog and Toad series. He won the 1981 Caldecott medal for his book Fables, having previously won a Caldecott Honor in 1971 for Frog and Toad are Friends and a Newbery Honor in 1973 for Frog and Toad Together. He illustrated over 70 books throughout his career. He died in 1987.
Illustrated by Arnold Lobel
Details
Imprint: HarperCollins
Format: Hardcover
On Sale: 01/03/2017
ISBN: 9780062572738
ISBN10: 0062572733
Pages: 72
Trimsize: 9.000 x 6.000 in
Subcategory:
JUVENILE FICTION / Readers / Beginner
JUVENILE FICTION / Animals / Frogs & Toads
JUVENILE FICTION / Social Issues / Friendship
More Great Frog and Toad I CAN READ! BOOKS
More Great I Can Read Level 2 BOOKS