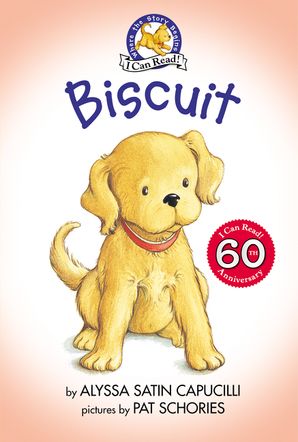 Read an excerpt
biscuit
By Alyssa Satin Capucilli, Illustrated by Pat Schories
Other Formats
Description
In celebration of the 60th Anniversary of I Can Read books, here is a beautiful new edition of the very first Biscuit story!
The classic tale written by Alyssa Satin Capucilli and charmingly illustrated by Pat Schories is now available as a special paper-over-board commemorative edition celebrating the 60th Anniversary of I Can Read books for beginning readers.
Eight bonus pages recount I Can Read's history, including a timeline, never-before-seen sketches, and origin stories of beloved I Can Read characters. This edition is perfect for gift giving.
Contributors
Alyssa Satin Capucilli
Alyssa Satin Capucilli is the author of the first story about Tulip and Rex, Tulip Loves Rex, as well as the bestselling Biscuit books and many other beloved children's books. She lives in a book-filled home in Hastings-on-Hudson, New York.
Illustrated by Pat Schories
Details
Publisher: HarperCollins
Imprint: HarperCollins
Format: Hardcover
On Sale: 05/02/2017
ISBN: 9780062572769
ISBN10: 0062572768
Pages: 32
Trimsize: 9.000 x 6.000 in
Subcategory:
JUVENILE FICTION / Readers / Beginner
JUVENILE FICTION / Animals / Dogs
JUVENILE FICTION / Bedtime & Dreams
More Great My First I Can Read BOOKS