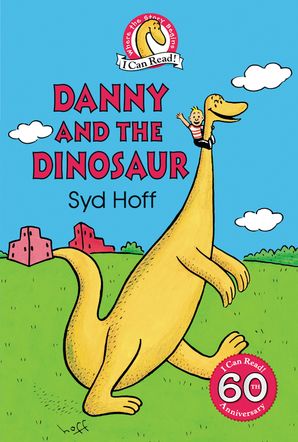 Read an excerpt
Danny and the Dinosaur
By Syd Hoff, Illustrated by Syd Hoff
Description
Danny loves dinosaurs! This brand-new edition of Syd Hoff's beloved Danny and the Dinosaur is a special paper-over-board commemorative edition celebrating the 60th anniversary of I Can Read books for beginning readers. The book includes the complete original story and features a foil cover, an anniversary burst, and eight pages of bonus material on the history of I Can Read—including a timeline, origin stories of favorite characters, and never-before-seen early sketches! This beautiful edition is perfect for gift-giving.
When Danny sees a dinosaur at the museum and says, "It would be nice to play with a dinosaur," a voice answers, "And I think it would be nice to play with you." So begins Danny and the Dinosaur's wonderful adventures together.
For Danny and his prehistoric playmate, even the most everyday activities become extraordinary, like finding a big-enough place to hide a dinosaur in a game of hide-and-seek. Kids will delight in Syd Hoff's charming, funny illustrations as they read about how Danny teaches a very old dinosaur some new tricks.
Contributors
Syd Hoff
Syd Hoff has given much pleasure to children everywhere as the author and illustrator of numerous children's books, including the favorite I Can Read books Sammy the Seal, The Horse in Harry's Room, and the Danny and the Dinosaur books. Born and raised in New York City, he studied at the National Academy of Design. His cartoons were a regular feature in the New Yorker after he sold his first cartoon to that magazine at the age of eighteen. His work also appeared in many other magazines, including Esquire and the Saturday Evening Post, and in a nationally syndicated daily feature.
Illustrated by Syd Hoff
Details
Imprint: HarperCollins
Format: Hardcover
On Sale: 09/05/2017
ISBN: 9780062572776
ISBN10: 0062572776
Pages: 72
Trimsize: 9.000 x 6.000 in
Subcategory:
JUVENILE FICTION / Readers / Beginner
JUVENILE FICTION / Animals / Dinosaurs & Prehistoric Creatures
JUVENILE FICTION / Social Issues / Friendship
More Great Danny and the Dinosaur I CAN READ! BOOKS
More Great I Can Read Level 1 BOOKS