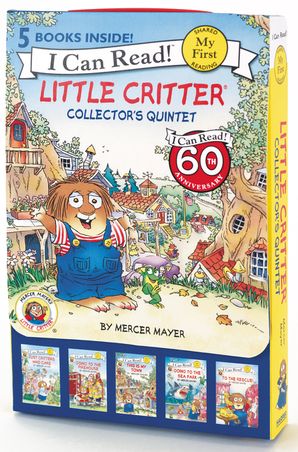 Little Critter Collector's Quintet
By Mercer Mayer, Illustrated by Mercer Mayer
Description
Join Mercer Mayer's classic and beloved character, Little Critter®, as he visits the sea park, explores his town, helps out his neighbor, and more! With five fun-filled My First I Can Read stories in one box, this quintet is perfect for shared reading with a child.
The Little Critter Collector's Quintet comes in a carry-along case with a Velcro closure and plastic handles, ideal for story time, anytime.
Includes five Little Critter books: Critters Who Care, Going to the Firehouse, This Is My Town, Going to the Sea Park, and To the Rescue.
Contributors
Mercer Mayer
Mercer Mayer is the creator of the enduringly popular Little Critter books. Drawing from his own childhood adventures for inspiration, Mayer has created a beloved and classic character in Little Critter. You can visit him at www.littlecritter.com.
Illustrated by Mercer Mayer
Details
Publisher: HarperCollins
Imprint: HarperCollins
Format: Paperback
On Sale: 01/03/2017
ISBN: 9780062653499
ISBN10: 0062653490
Pages: 160
Trimsize: 9.000 x 6.000 in
Subcategory:
JUVENILE FICTION / Readers / Beginner
JUVENILE FICTION / Animals / General
JUVENILE FICTION / Animals / Mice, Hamsters, Guinea Pigs, etc.
More Great Little Critter I CAN READ! BOOKS
More Great My First I Can Read BOOKS