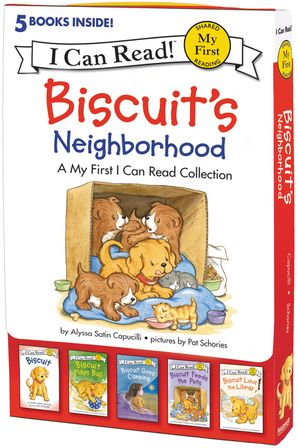 Biscuit's Neighborhood
By Alyssa Satin Capucilli, Illustrated by Pat Schories
Description
Biscuit, everyone's favorite little yellow puppy, stars in a five-book I Can Read box-set with a handle and Velcro closure—perfect for fans of Clifford and Spot.
Five fun-filled Biscuit My First I Can Read stories are now all together in one portable collection. Whether he's playing with his favorite ball, helping feed pets, or visiting his local library—this puppy is always up for an adventure!
Now young readers can take these tail-wagging adventures with them wherever they go. The books include d are:
Biscuit
Biscuit Plays Ball
Biscuit Goes Camping
Biscuit Feeds the Pets
Biscuit Loves the Library
Contributors
Alyssa Satin Capucilli
Alyssa Satin Capucilli is the author of the first story about Tulip and Rex, Tulip Loves Rex, as well as the bestselling Biscuit books and many other beloved children's books. She lives in a book-filled home in Hastings-on-Hudson, New York.
Illustrated by Pat Schories
Details
Imprint: HarperCollins
Format: Paperback
On Sale: 01/02/2018
ISBN: 9780062688262
ISBN10: 006268826X
Pages: 160
Trimsize: 9.000 x 6.000 in
Subcategory:
JUVENILE FICTION / Readers / Beginner
JUVENILE FICTION / Animals / Dogs
JUVENILE FICTION / Animals / Pets
More Great Biscuit I CAN READ! BOOKS
More Great My First I Can Read BOOKS