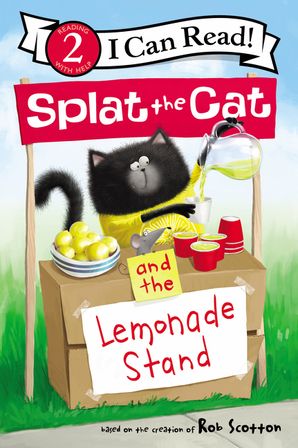 Splat the Cat and the Lemonade Stand
By Rob Scotton, Illustrated by Rob Scotton
Description
You know Splat the Cat from his bestselling picture books and Level One stories. Now get ready to graduate with Splat into Level Two readers and find out what funny adventures Splat will get into next!
School's out, and Splat can't wait to visit the waterpark, but first he needs make some money—selling lemonade!
Splat opens a lemonade stand to make enough money to buy a ticket to the Super Jump Water Park. But when Spike opens another lemonade stand right across the street, Splat is in for some friendly competition. He's going to have to think fast to beat his rival!
Splat the Cat and the Lemonade Stand is a Level Two I Can Read book, geared for kids who read on their own but still need a little help. Beginning readers ready for Level Two will love this fun Splat the Cat adventure.
Contributors
Rob Scotton
Rob Scotton is the bestselling author and illustrator of Russell the Sheep; Russell and the Lost Treasure; Russell's Christmas Magic; Splat the Cat; Love, Splat; Merry Christmas, Splat; and Scaredy-Cat, Splat! His work can also be found on greeting cards, ceramics, textiles, prints, stationery, and glassware. An honors graduate of Leicester Polytechnic, Rob now lives in Rutland, England, with his wife, Liz, who is also an artist. You can visit Rob Scotton online at www.robscotton.com.
Illustrated by Rob Scotton
Details
Publisher: HarperCollins
Imprint: HarperCollins
Format: Paperback
On Sale: 05/07/2019
ISBN: 9780062697080
ISBN10: 0062697080
Pages: 32
Trimsize: 9.000 x 6.000 in
Subcategory:
JUVENILE FICTION / Readers / Beginner
JUVENILE FICTION / Animals / Cats
JUVENILE FICTION / Humorous Stories
More Great Splat the Cat I CAN READ! BOOKS
More Great I Can Read Level 2 BOOKS