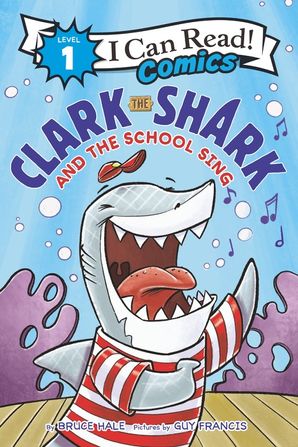 Clark the Shark and the School Sing
By Bruce Hale, Illustrated by Guy Francis
Description
Clark the Shark makes his I Can Read Comic debut! Featuring a bold new comic style by Guy Francis and easy-to-read text by Bruce Hale, this Level One I Can Read Comic will have beginning readers ready to take a bite out of reading!
Clark the Shark is excited about the School Sing! He can't wait to sing. La-la-laaa! But when Mrs. Inkydink asks the class to sing and dance at the same time, Clark discovers that doing two things at once can be really challenging!
Clark the Shark and the School Sing is a Level One I Can Read Comic, which means it's perfect for shared reading with young readers new to graphic novel storytelling.
Contributors
Bruce Hale
Bruce Hale has written and/or illustrated over sixty books for kids and is the author of Clark the Shark; Clark the Shark Dares to Share; the award-winning Chet Gecko Mysteries series; Snoring Beauty, one of Oprah's Recommended Reads for Kids; and the School for S.P.I.E.S. series. In his free time, Bruce enjoys hiking, watching movies, and making music. He lives in Santa Barbara, California, with his wife, dog, and many hats. You can catch him online at www.brucehale.com.
Illustrated by Guy Francis
Details
Publisher: HarperAlley
Imprint: HarperAlley
Format: Paperback
On Sale: 06/22/2021
ISBN: 9780062912565
ISBN10: 0062912569
Pages: 32
Trimsize: 9.000 x 6.000 in
Subcategory:
JUVENILE FICTION / Animals / Marine Life
JUVENILE FICTION / Humorous Stories
JUVENILE FICTION / Readers / Beginner
More Great Clark the Shark I CAN READ! BOOKS
More Great I Can Read Comics Level 1 BOOKS