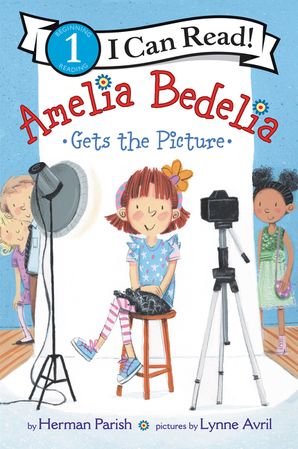 Amelia Bedelia Gets the Picture
By Herman Parish, Illustrated by Lynne Avril
Description
Learn to read with young Amelia Bedelia! Amelia Bedelia has been loved by readers for more than fifty years. And it turns out that her childhood is full of silly mix-ups, too!
In this Level 1 I Can Read, Amelia Bedelia gets ready to smile for the camera on school picture day.
This Level 1 I Can Read series featuring Amelia Bedelia as a child proves that a picture is worth a thousand words and will inspire newly independent readers to read, laugh, and expand their vocabularies.
The Amelia Bedelia books have sold more than 35 million copies since we first met the iconic character in 1963!
Contributors
Herman Parish
Herman Parish was in the fourth grade when his aunt, Peggy Parish, wrote the first book about Amelia Bedelia. The author lives in Princeton, New Jersey.
Illustrated by Lynne Avril
Details
Imprint: Greenwillow Books
Format: Hardcover
On Sale: 10/08/2019
ISBN: 9780062935250
ISBN10: 0062935259
Pages: 32
Trimsize: 9.000 x 6.000 in
Subcategory:
JUVENILE FICTION / Readers / Beginner
JUVENILE FICTION / Family / General
JUVENILE FICTION / Social Issues / Friendship
More Great Amelia Bedelia I CAN READ! BOOKS
More Great I Can Read Level 1 BOOKS