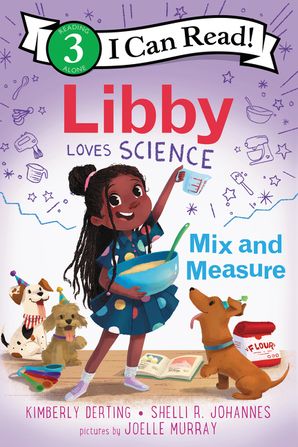 Libby Loves Science: Mix and Measure
By Kimberly Derting,Shelli R. Johannes, Illustrated by Joelle Murray
Description
Libby loves science! In this STEM-themed Level 3 I Can Read! title, Libby and her friend Rosa learn about mixing and measuring to bake a delicious treat for a puppy party. A great choice for aspiring scientists, emerging readers, and fans of Andrea Beaty's Ada Twist, Scientist. Includes activities, a glossary, and a cupcake recipe.
Libby loves science—and experimenting! In this Level 3 I Can Read! title, Libby hosts a puppy party for her friends and their dogs. With the help of her friend Rosa and little brother, Libby decorates, stuffs goody bags and bakes delicious cupcakes. But when they realize they've forgotten an important ingredient, they use science to solve the problem—just in the nick of time.
The Loves Science books introduce readers to girls who love science, as well as basic concepts of science, technology, engineering, and math. This Level 3 I Can Read! focuses on basic chemistry and friendship. A great pick for newly independent readers and an ideal companion to Cece Loves Science: Push and Pull.
Contributors
Kimberly Derting
Kimberly Derting is the author of the Cece Loves Science series, the Body Finder series, the Pledge trilogy, and the Taking series. She lives in the Pacific Northwest, where the gloomy weather is ideal for writing anything dark and creepy. Her three beautiful (and often mouthy) children serve as an endless source of inspiration and frequently find things they say buried in the pages of their mother's books. You can visit her online at www.kimberlyderting.com.
Illustrated by Joelle Murray
Shelli R. Johannes
Shelli R. Johannes
never warmed up to creepy crawly bugs, but she always loved zoology and biology. In fact, she can often be found on highways and country roads saving strays and other jaywalking critters, or volunteering with animal conservations groups like The Atlanta Zoo, The Dolphin Project, and animal rescue centers. Unfortunately, she learned early on that chemistry (a.k.a. cooking) was not her favorite science, often resulting in odd reactions and minor explosions. She lives in Atlanta with her husband, two kids, one bird, one fish, and two crazy-haired Doodles who, just like Einstein, all who seem to love fruit and dessert, but loathe veggies. 
Details
Publisher: Greenwillow Books
Imprint: Greenwillow Books
Format: eBook
On Sale: 01/05/2021
ISBN: 9780062946133
ISBN10: 0062946137
Pages: 32
Trimsize: x in
Subcategory:
JUVENILE FICTION / Readers / Beginner
JUVENILE FICTION / School & Education
JUVENILE FICTION / Science & Technology
More Great I Can Read Level 3 BOOKS