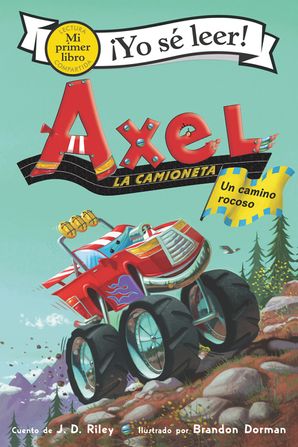 Axel la camioneta: Un camino rocoso
By J. D. Riley, Illustrated by Brandon Dorman
Description
This high-quality Spanish-language book can be enjoyed by fluent Spanish speakers as well as those learning the language, whether at home or in a classroom.
Un libro con alegres ilustraciones, vocabulario básico, mucha acción, ritmo y repetición. La edición en español de Axel the Truck: Rocky Road, de la colección Mi primer libro ¡Ya sé leer!, es perfecta para los pequeños que están aprendiendo a leer.
Axel, un bullicioso y popular personaje de la colección Mi primer libro ¡Ya sé leer!, es una pequeña camioneta valiente, curiosa y aventurera, con unas ruedas muy, muy grandes. Camino a la montaña, Axel corre, salta y acelera, subiendo y bajando por caminos rocosos. ¡Hasta compite con cabras de montaña! Pero, ¡cuidado! ¡Una roca que viene cayendo hacia ella! ¿Qué hará Axel?  Incluye un glosario de herramientas y partes de una camioneta.
Contributors
J. D. Riley
J. D. Riley lives in Ohio and is the author of several books about Axel the truck.
Illustrated by Brandon Dorman
Details
Imprint: Greenwillow Books
Format: Hardcover
On Sale: 08/04/2020
ISBN: 9780062980410
ISBN10: 0062980416
Pages: 32
Trimsize: 9.000 x 6.000 in
Subcategory:
JUVENILE FICTION / Readers / Beginner
JUVENILE FICTION / Action & Adventure / General
JUVENILE FICTION / Transportation / General
More Great My First I Can Read BOOKS