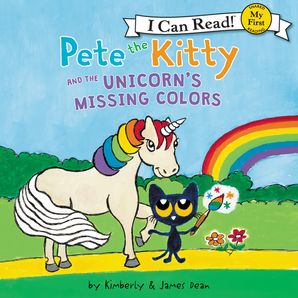 Pete the Kitty and the Unicorn's Missing Colors
By James Dean, Illustrated by James Dean
Description
New York Times bestselling creators Kimberly and James Dean bring readers along for a magical unicorn adventure!
Pete the Kitty's friend Stevie the unicorn somehow lost all the colors in her rainbow tail. It's a good thing Pete has his magical paintbrush to help out! Together, they search for the missing colors of the rainbow.
Beginning readers will love Pete's enchanting adventure in this My First I Can Read story, complete with original illustrations from the creator of Pete the Cat, James Dean. My First I Can Read books are perfect for shared reading with a child.

Contributors
James Dean
James Dean's art has sold in more than ninety galleries and shops across the United States. He has devoted his paintings to Pete the Cat for fifteen years and has turned his natural love for cats into his life's work. James published his first adult book, The Misadventures of Pete the Cat, a history of his artwork, in 2006. He illustrated his first self-published children's book, Pete the Cat: I Love My White Shoes, in 2008, and the follow-up book, Pete the Cat: Rocking in My School Shoes, in 2011. James lives in Savannah, Georgia, with his wife, four cats, and one dog. You can visit him online at www.petethecat.com.
Illustrated by James Dean
Details
Publisher: HarperCollins
Imprint: HarperCollins
Format: Downloadable audio file
On Sale: 07/07/2020
ISBN: 9780063005785
ISBN10: 0063005786
Trimsize: x in
Subcategory:
JUVENILE FICTION / Readers / Beginner
JUVENILE FICTION / Animals / Cats
JUVENILE FICTION / Animals / Dragons, Unicorns & Mythical
More Great My First I Can Read BOOKS