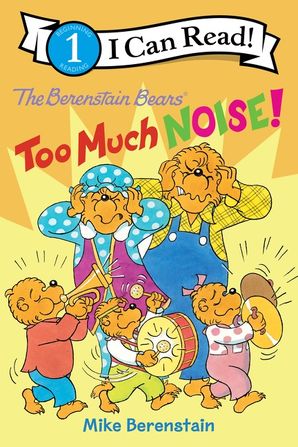 The Berenstain Bears: Too Much Noise!
By Mike Berenstain, Illustrated by Mike Berenstain
Description
There is too much noise in the Berenstain Bears' tree house! "Blah! Blah!" goes the TV, "Boom! Boom!" goes the music, and "Beep! Beep!" goes the video game player. Will Mama and Papa Bear ever get a moment to sit and enjoy some peace and quiet?
Your family is sure to laugh along and appreciate the realistic but satisfying conclusion. The Berenstain Bears are as relatable and funny as ever in this I Can Read story.
The Berenstain Bears Too Much Noise! is a Level One I Can Read, which means it's perfect for children learning to sound out words and sentences. Whether shared at home or in a classroom, the short sentences, familiar words, and simple concepts of Level One books support success for children eager to start reading on their own.
Contributors
Mike Berenstain
Mike Berenstain lives in Bucks County, Pennsylvania, where he continues to write and illustrate wonderful new adventures for Mama, Papa, Brother, Sister, and Honey Bear.
Illustrated by Mike Berenstain
Details
Imprint: HarperCollins
Format: Hardcover
On Sale: 09/14/2021
ISBN: 9780063024441
ISBN10: 0063024446
Pages: 32
Trimsize: 9.000 x 6.000 in
Subcategory:
JUVENILE FICTION / Readers / Beginner
JUVENILE FICTION / Animals / Bears
JUVENILE FICTION / Family / General
More Great I Can Read Level 1 BOOKS