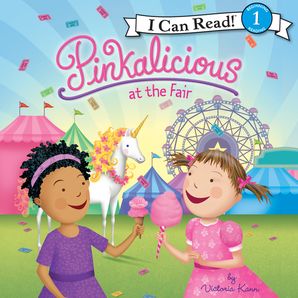 Pinkalicious at the Fair
By Victoria Kann, Illustrated by Victoria Kann
Description
Readers can watch Pinkalicious and Peterrific on the funtastic PBS Kids TV series Pinkalicious & Peterrific!
#1 New York Times bestselling author Victoria Kann brings young readers a Pinkalicious I Can Read Story about friendship and the magical unicorn, Goldilicious.
Pinkalicious and Molly are headed to the Pinkville Fair and can't wait to eat lots of pink cotton candy! But can Pinkalicious still have fun when it's time to go and she can't find her unicorn, Goldie?
Pinkalicious at the Fair is a Level One I Can Read Book, which means it's perfect for children learning to sound out words and sentences.
Contributors
Victoria Kann
Victoria Kann is the award-winning illustrator and author of the picture book series featuring the whimsical and effervescent character Pinkalicious. Victoria coauthored and illustrated the first two books, Pinkalicious and Purplicious, and cowrote the play Pinkalicious: The Musical.  She wrote and illustrated the New York Times number-one bestsellers Goldilicious, Silverlicious, Emeraldalicious, and Aqualicious as well as Peterrific, starring Pinkalicious's little brother! Victoria is the co-executive producer of Pinkalicious & Peterrific on PBS Kids.
Illustrated by Victoria Kann
Details
Publisher: HarperCollins
Imprint: HarperCollins
Format: Downloadable audio file
On Sale: 08/11/2020
ISBN: 9780063028364
ISBN10: 0063028360
Trimsize: x in
Subcategory:
JUVENILE FICTION / Readers / Beginner
JUVENILE FICTION / Animals / Dragons, Unicorns & Mythical
JUVENILE FICTION / Social Issues / Friendship
More Great Pinkalicious I CAN READ! BOOKS
More Great I Can Read Level 1 BOOKS