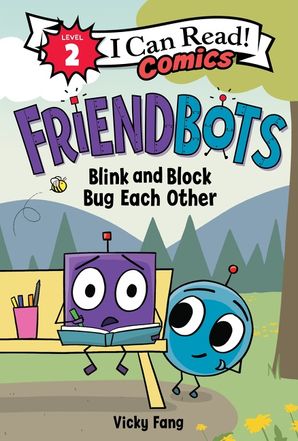 Friendbots: Blink and Block Bug Each Other
By Vicky Fang, Illustrated by Vicky Fang
Other Formats
Description
Let's read comics! I Can Read Comics is an early reader line that familiarizes children with the world of graphic novel storytelling and encourages visual literacy in emerging readers.
Blink and Block are back in another STEM-inspired I Can Read Comic by author-illustrator Vicky Fang!
This time, Block is drawing in the park, but Blink wants to play. So much, in fact, that Blink can't stop pressing Block's buttons . . . literally. Blink is silly and Block is logical, and they're best when they're together! Whether they're searching for treasure, playing pretend, or learning to compromise, Blink's imagination and Block's clever ideas turn any ordinary day into the most fun ever.
Friendbots: Blink and Block Bug Each Other is a Level Two I Can Read Comic, geared for kids who are comfortable with comics and can read on their own, but still need a little help.
Contributors
Vicky Fang
Vicky Fang is a children's product designer who invents things—like cars that talk to each other, or buildings that play music, or games you can play with your voice. She's even designed robots for kids! She is the author of Invent-a-Pet, the Layla and the Bots series, the I Can Code board book series, and the Blink and Block I Can Read Comics titles.
Illustrated by Vicky Fang
Details
Imprint: HarperAlley
Format: Hardcover
On Sale: 09/14/2021
ISBN: 9780063049482
ISBN10: 0063049481
Pages: 32
Trimsize: 9.000 x 6.000 in
Subcategory:
JUVENILE FICTION / Readers / Beginner
JUVENILE FICTION / Robots
More Great I Can Read Comics Level 2 BOOKS