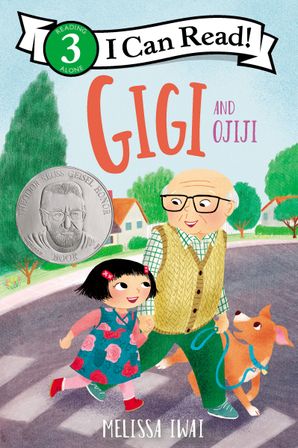 Gigi and Ojiji
By Melissa Iwai, Illustrated by Melissa Iwai
Description
"Gigi crafts her Japanese American identity in this ­enchanting early reader. The cuteness, inclusivity, and cross-cultural problem-solving represented will have young ­readers coming back again and again. A must-buy." —School Library Journal (starred review)
Gigi, a biracial six-year-old girl, learns about her Japanese culture from her grandfather when he comes to visit. Perfect for social emotional learning.
Gigi can't wait for her Ojiji—Japanese grandpa—to move in. Gigi plans lots of things to do with him, like playing tag, reading books, and teaching Roscoe, the family dog, new tricks.
But her plans don't work out quite the way she'd hoped. And her grandpa doesn't seem to like Roscoe. Will Gigi find a way to connect with her Ojiji?
This exciting new I Can Read series is brought to you by author-illustrator Melissa Iwai, whose popular books include Soup Day and Dumplings for Lili.
Gigi and Ojiji is a Level Three I Can Read book. Level 3 includes many fun subjects kids love to read about on their own. Themes include friendship, adventure, historical fiction, and science. Level 3 books are written for early independent readers. They include some challenging words and more complex themes and stories. The story contains several Japanese words and a glossary of definitions and pronunciations.
"The text is well supported by the endearing illustrations, which capture all of Gigi's big emotions and depict her as a biracial child, with a white father and Japanese mother." —Booklist (starred review)
"An affirming option in the quickly diversifying field of early-reader books." —Kirkus
Contributors
Melissa Iwai
Melissa Iwai has illustrated numerous books for children, including The Great Stroller Adventure and Good Night Engines. She lives in Brooklyn, New York, with her husband and son. If she were green, she would be the leaves on a leafy green tree.
Illustrated by Melissa Iwai
Details
Publisher: HarperCollins
Imprint: HarperCollins
Format: Hardcover
On Sale: 05/03/2022
ISBN: 9780063208063
ISBN10: 0063208067
Pages: 32
Trimsize: 9.000 x 6.000 in
Subcategory:
JUVENILE FICTION / People & Places / United States / Asian American
JUVENILE FICTION / Family / Multigenerational
JUVENILE FICTION / People & Places / Asia
JUVENILE FICTION / Readers / Beginner
More Great I Can Read Level 3 BOOKS