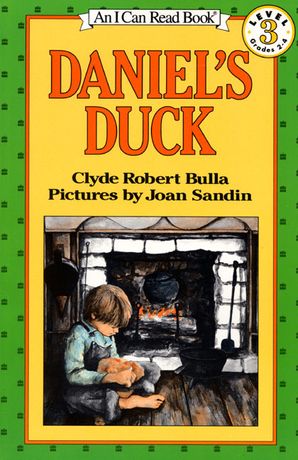 Read an excerpt
Daniel's Duck
By Clyde Robert Bulla, Illustrated by Joan Sandin
Description
Daniel is hurt when others laugh at his wood carving, until he learns that giving people pleasure takes a very special gift. 'Good, warm feelings result from reading this gentle tale set in rural Tennessee during pioneer days.' 'CS. 'A lovely book on all counts.' 'NYT.
Notable Children's Books of 1979 (ALA)
Contributors
Clyde Robert Bulla
Clyde Robert Bulla is the author of over fifty books for children including The Secret Valley and The Story of Valentine's Day. He has been writing since 1946 when he published his first book, The Donkey Cart. Mr. Bulla was the first recipient of the Southern California Council on Children's Literature award for distinguished contribution to the field. He lives in Los Angeles, California.
Illustrated by Joan Sandin
Details
Imprint: HarperCollins
Format: Paperback
On Sale: 04/07/1982
ISBN: 9780064440318
ISBN10: 0064440311
Pages: 64
Trimsize: 8.500 x 5.500 in
Subcategory:
JUVENILE FICTION / Readers / Beginner
JUVENILE FICTION / Action & Adventure / General
JUVENILE FICTION / Social Issues / Emotions & Feelings
More Great I Can Read Level 3 BOOKS