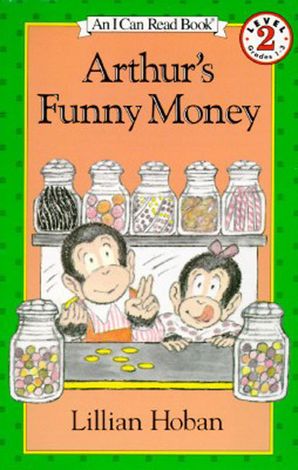 Read an excerpt
Arthur's Funny Money
By Lillian Hoban, Illustrated by Lillian Hoban
Description
'An hilarious account of Arthur's attempts to earn enough money to buy a T-shirt and cap, assisted by his sister Violet. Simple business concepts are ingeniously woven into the story. This marvelous book will capture the interest of eager learners and creative teachers.' —YC.
Children's Choices for 1982 (IRA/CBC)
Children's Books of 1981 (Library of Congress)
Contributors
Lillian Hoban
Lillian Hoban was the author and illustrator of many favorite I Can Read books, including Joe and Betsy the Dinosaur, Silly Tilly's Thanksgiving, and a series about Arthur the Chimpanzee. She also illustrated many picture books, including the classic stories about Frances.
Illustrated by Lillian Hoban
Details
Imprint: HarperCollins
Format: Paperback
On Sale: 04/11/1984
ISBN: 9780064440486
ISBN10: 0064440486
Pages: 64
Trimsize: 8.500 x 5.500 in
Subcategory:
JUVENILE FICTION / Readers / Beginner
JUVENILE FICTION / Animals / General
JUVENILE FICTION / Humorous Stories
More Great I Can Read Level 2 BOOKS