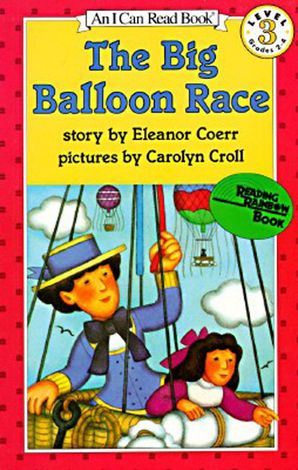 The Big Balloon Race
By Eleanor Coerr, Illustrated by Carolyn Croll
Description
This Level 3 I Can Read book is an excellent choice to share during homeschooling, in particular for children ages 5 to 7 who are ready to read independently. It's a fun way to keep your child engaged and as a supplement for activity books for children.
Ariel would love to be in the basket of Lucky Star on the day of the big balloon race against Bernard the Brave. Her mother, Carlotta the Great, is the best lady balloonist in America. But Ariel's parents think she is too young. Little do they know she is asleep in the Odds and Ends box when Carlotta the Great orders "Hands off!" and the balloon race begins.
 The thrills of Ariel's first ride in a hydrogen balloon come to life in this story based on a real ballooning family of the late 1800's. Carolyn Croll's pictures capture the pageantry and drama of the race, and will have readers rooting to the end for Ariel and her mother.
Contributors
Eleanor Coerr
Eleanor Coerr is the author of many books for young readers, including The Big Baloon Race, a Reading Rainbow book, Chang's Paper Pony, and The Josefina Story Quilt, a Notable Children's Trade Book in the Field of Social Studies.
Illustrated by Carolyn Croll
Details
Imprint: HarperCollins
Format: Paperback
On Sale: 06/06/1984
ISBN: 9780064440530
ISBN10: 0064440532
Pages: 64
Trimsize: 8.500 x 5.500 in
Subcategory:
JUVENILE FICTION / Readers / Beginner
JUVENILE FICTION / Historical / General
JUVENILE FICTION / Transportation / General
More Great I Can Read Level 3 BOOKS