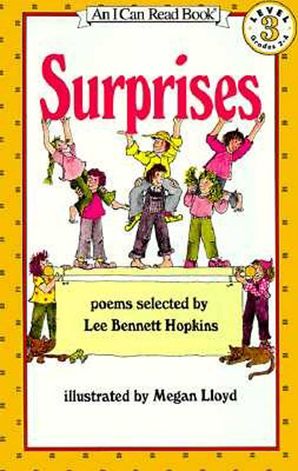 Read an excerpt
Surprises
By Lee Bennett Hopkins, Illustrated by Megan Lloyd
Description
'These thirty-eight poems offer beginning readers a chance to try some verse. With drawings that pack a lot of action, a friendly book that will connect with everyday lives and lend a little music along the way.' —BL.
Notable Children's Books of 1984 (ALA)
Best Books of 1984 (SLJ)
Children's Books of 1984 (Library of Congress)
Contributors
Lee Bennett Hopkins
Noted poet Lee Bennett Hopkins has edited or authored numerous books for children, including the I Can Read Books Hamsters, Shells, and Spelling Bees; A Pet for Me: Poems; and the ALA Notable Children's Book Surprises. The recipient of a Christopher Award and the University of Southern Mississippi's Medallion for "lasting contributions to children's literature," Mr. Hopkins lives in Florida.
Illustrated by Megan Lloyd
Details
Imprint: HarperCollins
Format: Paperback
On Sale: 08/27/1986
ISBN: 9780064441056
ISBN10: 0064441059
Pages: 64
Trimsize: 8.500 x 5.500 in
Subcategory:
JUVENILE NONFICTION / Readers / Beginner
JUVENILE NONFICTION / Animals / General
JUVENILE NONFICTION / Poetry / General
More Great I Can Read Level 3 BOOKS