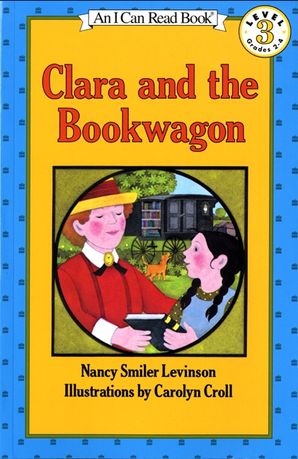 Read an excerpt
Clara and the Bookwagon
By Nancy Smiler Levinson, Illustrated by Carolyn Croll
Other Formats
Description
Papa will not allow Clara to learn to read—he says "Farm people like us do not have time to read." But when the traveling bookwagon, with persuasive Miss Mary at the reins, arrives at their farm, Papa realizes he must change his mind. Based on the true story of America's first 'bookmobile.'
"The free library in a nearby Maryland village is off-limits to the curious child, but Clara's chance encounter with librarian Mary Titcomb and the first horse-drawn 'moving library' changes her father's response. A glimpse of childhood without schools, libraries, literacy and books is presented in easy-to-read historical fiction." (Cooperative Children's Book Center)

Clara and the Bookwagon is a Level Three I Can Read book. Level 3 includes many fun subjects kids love to read about on their own. Themes include friendship, adventure, historical fiction, and science. Level 3 books are written for early independent readers. They include some challenging words and more complex themes and stories.
Contributors
Nancy Smiler Levinson
Nancy Smiler Levinson has written many popular books for young readers, including Magellan and the First Voyange Around the World and the I Can Read Books Clara and the Bookwagon, illustrated by Carolyn Croll, and Snowshoe Thompson, illustrated by Joan Sandin. She lives in Beverly Hills, California.
Illustrated by Carolyn Croll
Details
Imprint: HarperCollins
Format: Paperback
On Sale: 01/30/1991
ISBN: 9780064441346
ISBN10: 0064441342
Pages: 64
Trimsize: 8.500 x 5.500 in
Subcategory:
JUVENILE FICTION / Readers / Beginner
JUVENILE FICTION / Historical / United States / 19th Century
JUVENILE FICTION / Lifestyles / Farm & Ranch Life
More Great I Can Read Level 3 BOOKS